IGNITE ONLINE LEARNING NATA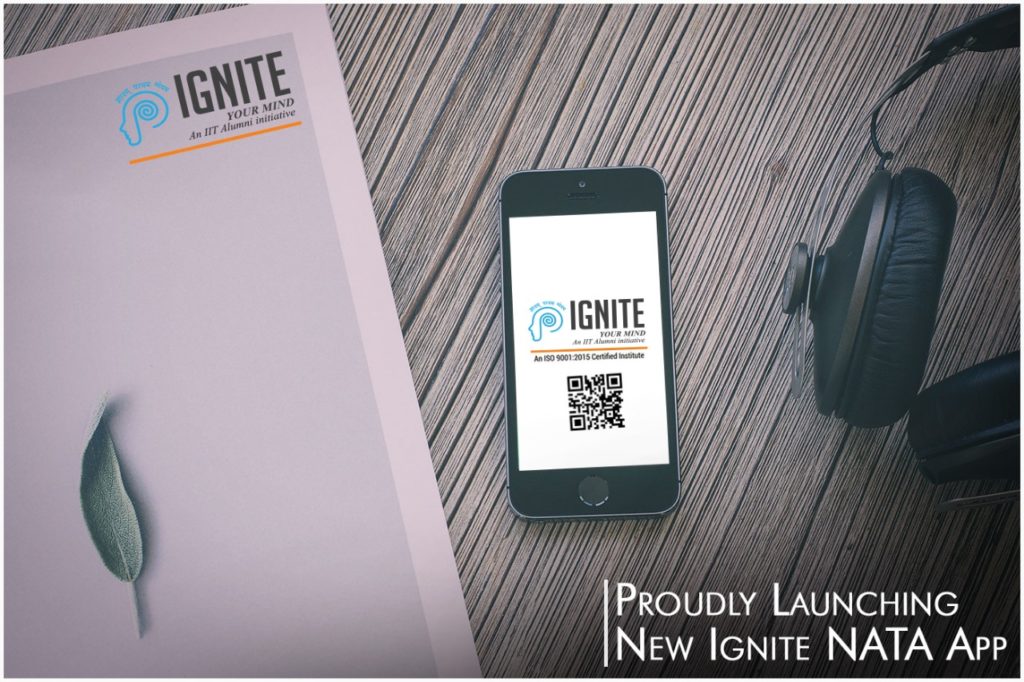 This is a productive app with some amazing unique features like providing preparation routine for Maths, Drawing, and Aptitude. Incompatible with other apps it covers all topics that can be asked in NATA exam. Every week this app will be equipped and refreshed with more questions and answers. This distinct feature along with the NATA Model Test Papers and Answers helps in regular preparation of a candidate. Every single content noted in this app is done under the expert guidance of CEPT and IIT Alumni to ensure its quality.
Hence Ignite is a predecessor in NATA Coaching it can be your purpose career guide. To attain success in NATA is not an easy task, it needs a lot of dedication and hard work. You need well professional help to crack NATA exam. Drawing test and Aesthetic Sensitivity test are the two test held for cracking NATA. Productive training sections and interactive classes are assured to every candidate by Ignite. We always choose best for our students, no compromise is done with better for our students.
With a rich team of highly knowledgeable professionals, both non-technical and technical, Ignite NATA coaching centre in Thrissur impart education to the candidates of all categories for preparing well for the exams. NATA coaching in Thrissur moulds each student to the exam by considering their interests and weaker parts in studies. A student with lots of dreams to accomplish and have the courage and heart to work for the goal Ignite is the best place which is capable to help you with.  
Benefits of learning online
Due to various reasons, a few may not be able to make it for classes in a traditional brick and cement kind of colleges, so online education is best for those suffering from these kinds of issues. Some of the benefits of online education provided by NATA coaching centers Thrissur is:
Flexibility
In traditional classrooms students are forced to work their schedules around the fixed dates, leaving no power over this. Today, most students prefer online learning because it gives them power over how they will assign their time towards different projects. NATA Thrissur provides more freedom than traditional rooms.
     2. Networking Opportunities
A connection can be built with peers across the nation or even across different continents. In the implementation of a project, it leads to a collaboration with other individuals. It easily fit candidates into other environments easily given their exposure to other cultures.
     3. Reduced Costs
Online education makes no cost for commuting. This also reduces the travelling expense like transport, parking, fuel, car maintenance,  or public transportation too won't affect an online student. As compared to traditional brick and mortar institutions, students feel more comfortable as well as it is cheaper than the real.
     4. Increased Instructor- Student Time
Concepts need to be clarified for very students, this may not get personalized attention in traditional classrooms. Personal talk time and online guided discussions with their professors and lecturers is a hallmark of online classes, this increases the chances of a student performing well. This will enhance their knowledge to defend their arguments to superiors if needed, improves communication skills, and personal-solving ability.
     5. Documentation
An online database will easily store all the required database like emails, training materials, discussion documents etc. The student can easily access the documents fast, it needs to be clarified, saving valuable time. This will make more sense with people who are carrying out research for a project.
     6. Access to expertise
Some online classes access students to some specialized degree courses that may not be easily available in the local institution of learning. Over the last few years, this has experienced mainstream acceptance. Online degree education opens education to a larger section of the population than ever before.
     7. Great career advancement and hobbies
You can easily fit your work schedules and coursework more easily. There are no fixed time to login into your account to take a live session, where you are free to interact with the instructor and your classmates at your convenient time. As per the surveys conducted, it is noted that around 44% of online students reported improvements in their employment standing.  The Online class will gain you more experience and new learning skills.
     8. Self-discipline and responsibility
Online studying will definitely build self-motivation and time-management skills in you because you spend a lot of time on your own without someone physically close to keep you focused on deadlines. It is a trait that will make you stand out in the workplace and beyond.
     9. More interaction and greater ability to concentrate
One contradictory evidence about Online classes versus traditional classes is that online courses offer shy candidates the occasion to involve in class discussions more easily than face-to-face class sessions. Due to lack of classroom activity, some students report better concentration in online classes.
    10. Career advancement
No issues arise in taking online classes in-between jobs, while working, in-between studies. This can fill the gaps in resumes. Without disturbing any part of studies one can take an online course by the side.
    11. Continue in your profession
Without leaving their current job, one can complete a degree. The online program's flexibility allows students to keep working while pursuing academic credentials.
     12. Improve your technical skills
Students learn to navigate different learning management systems (LMS) and programs as the most basic online course requires the development of new computer skills. Including incorporating audio/video materials into assignments, completing online training sessions, creating and sharing documents, etc the learning and participation skills of students in their online classes. Promoting this scheme many schools provides students free iPads and laptops.
Facilities enabled while choosing Ignite
Graduates and postgraduate mentors from prestigious institutes like CEPT and IIT.

Making students realising their strength and weakness.

Laying out a plan to students to reach their objective is the strategy of Ignite,

NATA Coaching in Kerala

.

Ignite,

NATA coaching in Ernakulam

provides full materials to students.

Have a collection of national and international books

Other than NATA, Ignite provides books for the preparation of entrance exams like
NID/NIFT/CEED/Architecture/Design/JEE .
About New NATA Online App
This is a ravishing app with exciting and distinctive features that provides preparation approach for drawing, aptitude, maths. With new questions and solutions, the app is refreshed every week. Also, it covers entire sections asked in Nata exam. A free mock test will be provided once if you download this app. This app was launched on August 23rd 2018 and was updated on August 9 2018. With a size of 20M, this app stands ahead with 100+ installs. This app will be a perfect guide for nata tracking aspirants.
IGNITE is one of the best institute for NATA coaching in Thrissur and also it has become one of the top institutions in Kerala through its whole dedication to providing quality education. For a brighter future, to impart rich education to all the teens and youngsters is our prime motto. Managed by IITians and CEPT, Ignite caters all educational need of students from schools to post graduate programs.
Hereby, it is very clear that this nata online app is an assured app which can surely help with your studies. National Aptitude Test in Architecture Centre in Thrissur imparts proper education through the online app.
<>NATA Coaching
---