Discover The Importance Of Outdoor Sketching In Architecture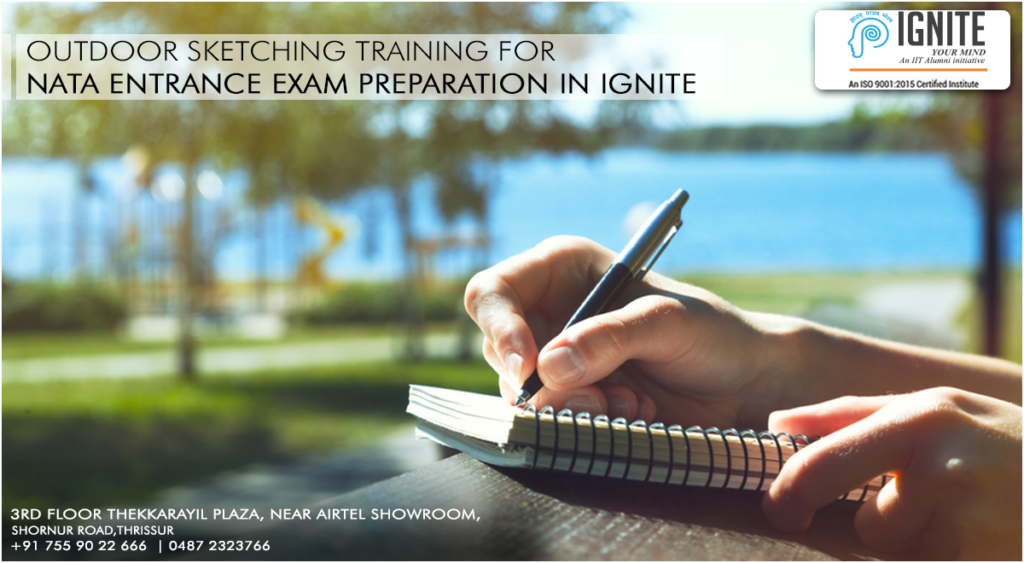 Are you an architecture aspirant? Have you started your preparations for NATA? If yes, you have to be aware of every single detail of NATA. It is a nationwide exam conducted twice a year.
To clear NATA exam with flying colors, it requires constant preparation and training.
Although the eligibility for NATA is 10+2 qualification, if you are still studying, you have a chance to avail the coaching for NATA 1-year in advance.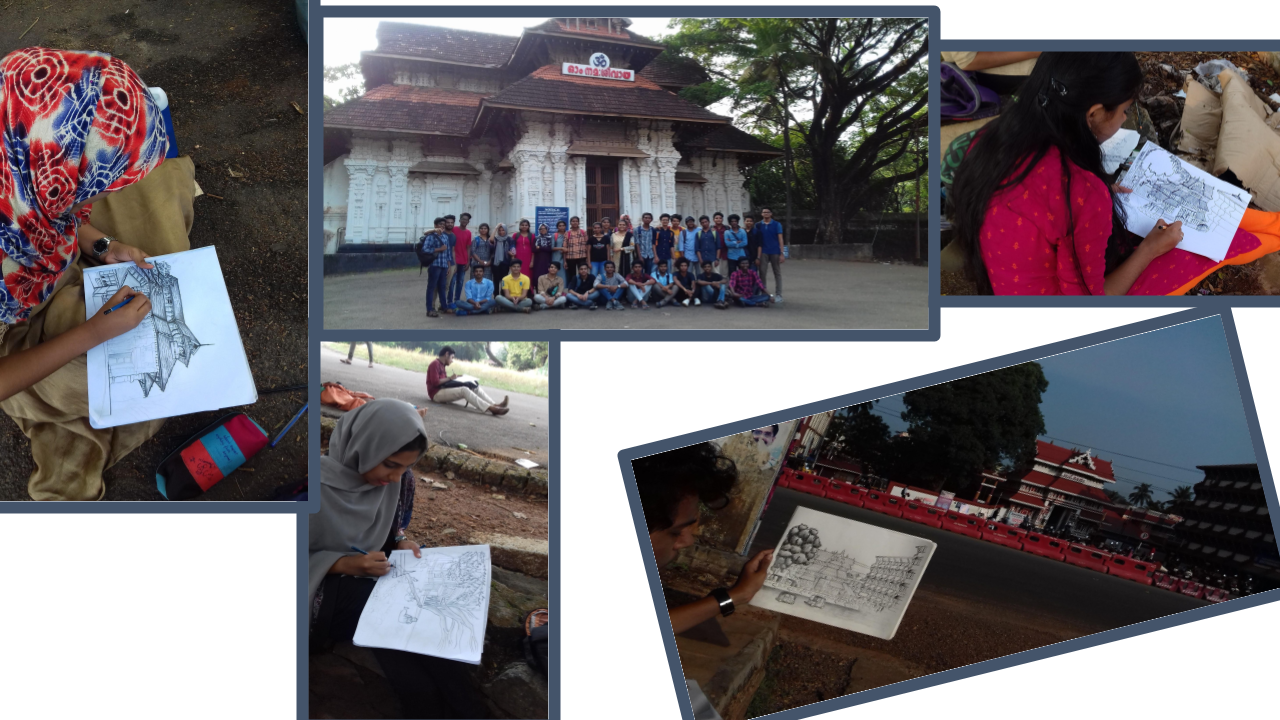 Ignite makes it possible with its special extensive NATA training for students just like you. The main benefit is to provide you both training and time which makes you sufficiently prepared and trained by the time you complete the higher secondary course.
The classes for this special coaching are taken on Sunday as the students are busy with their studies on the other days, therefore, they are not available.
IGNITE, NATA Coaching Centre in Thrissur helps you fulfill your dream of getting a good career profile in architecture.
Ability in sketching
As you know, architects design buildings and other structures according to client requirements, taking into consideration factors such as the location and topography of the building site, surrounding structural styles and the purposeful use of the planned structure.
The designs are not apart from imaginations. So an architect's ability to sketch is important.
Conceiving the sketch
With software like Autocad, Sketchup, Rhino, etc increasingly becoming accepted by architecture professionals, we often wonder whether sketching is still important in architecture. Sketching in architecture is used to communicate an idea and define the purpose of the design.
In the initial designing stage of conceiving the sketching, the creativity plays a crucial role.
Sketching aids to register ideas in an effective pattern. You don't need to have an artistic level of sketching, but the sketching procedure should cater to the role of helping you solve the issue graphically.
Sketching is not an intrinsic talent. It is a kind of skill like any other, it can be substantially developed by practice. And it should not be a real imitation of a structure.
<>Entrance coaching centres in thrissur district
What is Outdoor Sketching?
Outdoor sketching is about observing the environment, attending and recording. It refers to drawing absolutely from observation, and nothing that you have deliberately posed or organised. In other words, recording the real world as you discover it, at that moment. Today it is very common, even in locations where the weather doesn't always assist. First-hand observation of the subject is one of the advantages of outdoor sketching, which may lend a more powerful feeling to your sketches.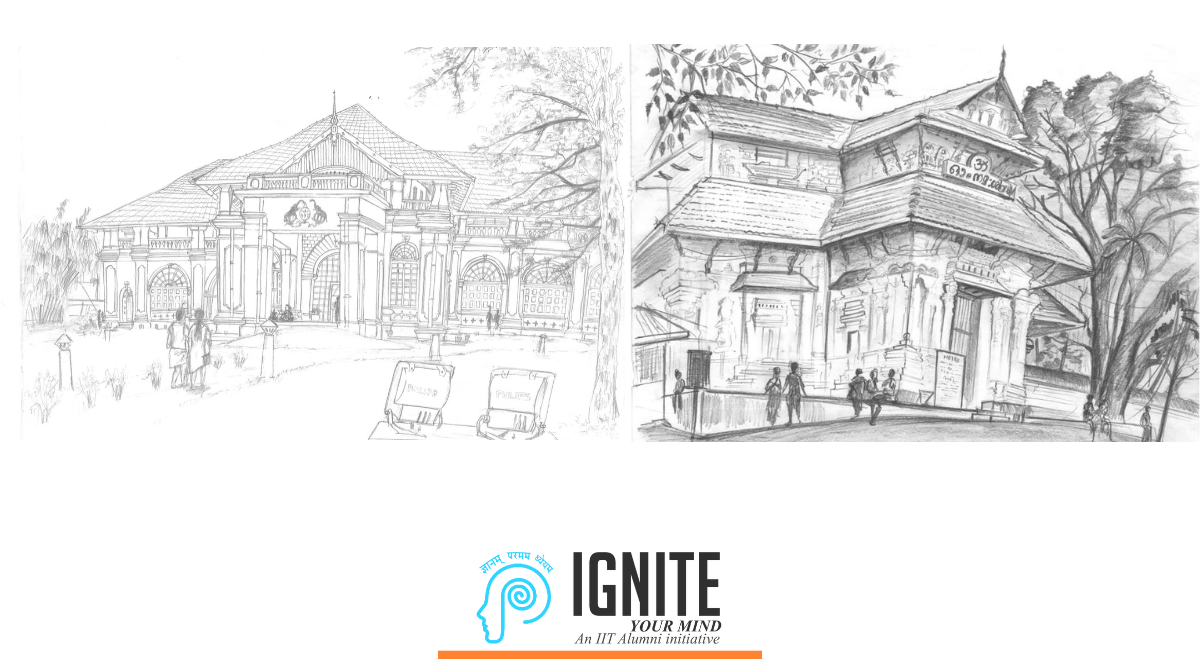 NATA exam is divided into two parts. First part consist of Mathematics and General Aptitude Test and the second part is drawing test. Understanding of proportion and scale of objects, geometric framework, shape, building structure and elements, aesthetics, colour character, harmony and contrast, light & shadows, developing plan, elevation and 3D views of objects, perspective drawing, sketching of urbanscape and landscape, creating 2D and 3D compositions considering shape and forms, common day-to-day life objects like furniture, equipment etc.
From memory, conceptualization and visualization through assembling objects in memory. Since students must be capable of sketching from memory, we refer it as visual sketching. So outdoor sketching is of significant help to students planning for NATA coaching.
How sketching helps in architectural profession?
Sketching helps in exploring the various issues we experience as part of an academic design problem. It is favourable to sketch just about anything- plans, elevations, sections and perspectives, just leave the construction drawings.
The constant scribbling blends the design flow of the project as a whole. Sketching can provide as a prime point from which the complicated drawing can be made using softwares. Softwares are astonishing. They have lessen our time to work on a project and enhanced the quality and quantity of work. But sketching is an essential element for architects.
It is a time-consuming process, but it tends a person wait for a while and determine about what they are doing. That is the attraction of a creative process- every line you draw to get you through the design on the paper is special in its own way and can sometime be instrumental in framing the world around you.
Why IGNITE?
We provide the best architecture entrance coaching in Thrissur and can assure that students at IGNITE will be able to draw with reasonable accuracy. While conducting outdoor sketching in accordance with student coaching for nata in Thrissur, we stimulate our students to simply sketch in an expressive way to show people their stories.
We want them to not only have a mere sight seeing, but also to observe well and feel what it was like to be there. Students of ignite have the privilege of going out on an outdoor sketching project once or twice every year.
Creativity is the ability to brush up with new, real ideas which are not conventional. Students are tend to overlook these aspects during their preparation and developing these skills are also vital. Students should be aware that their drawing and creative skills are of having no use if they are not capable of presenting their thoughts in the exam within the limited span of time, you cannot secure enough marks in exam.
So speed is equally essential. Since students must be able to sketch from memory our outdoor sketching practicals will be of great help. Get the best Nata coaching In Thrissur with IGNITE.
Who are we?
IGNITE, provider of National Aptitude Test in Architecture Centre in Thrissur has become one of the prime education institutions in Kerala through its complete dedication and commitment in providing quality education. Our main motto is to deliver rich education to all the teen and youngster groups for a flourishing future. This coaching centre is an initiative of IIT alumni that is being governed by IITians and CEPT.
Our's is a multidisciplinary institution that serves every academic requirement of students from schools to post graduate programs. Our coaching will perfectly assist you for any competitive exams, not to merley pass the exam, but to excel in the same.
What we offer?
NATA coaching – We provide you with result oriented training for NATA by professionals in the field of architecture with expert faculty, advanced coaching methods and comprehensive materials are delivered with due care.
B.Tech Tuition – The faculties at Ignite not merely train but make every student to be passionate in their career. Students are given training in both theory as well as practicals. We are considered to be the best institution for B.tech in Thrissur.
Higher Secondary Tuition – Every student must be trained with vast knowledge at their early stage to let them bright in future. Here, at Ignite, we upsurge a stronger base for each student.
Technical PSC coaching – Experience unique expert coaching by experienced and superior trainers to top in your exams. We are the best coaching centre for Kerala technical PSC with frequently updated syllabus and excellent teaching methods.
LET coaching – Experience our professional and skilled LET classes by our technical trainers. Ignite improves your skills and career with updated syllabus and comprehensive study materials.
Diploma Tuition – Get updated with our classes and secure high marks in every exams with the right coaching. Committed faculties to help in your studies, in the way you require it for the Diploma Tuition In Thrissur.
Bsc/Bcom Tuition – Become a professional in your career with Ignite's innovative training. Your development in studies is assured with Ignite, its not a mere word, but an assurance.
M.Tech Tuition – Ignite is the most trustful place for your M.Tech hardships, tell goodbye to all of them. Our professional trainers will aid you create an ideal bond with those subjects and the course.

---