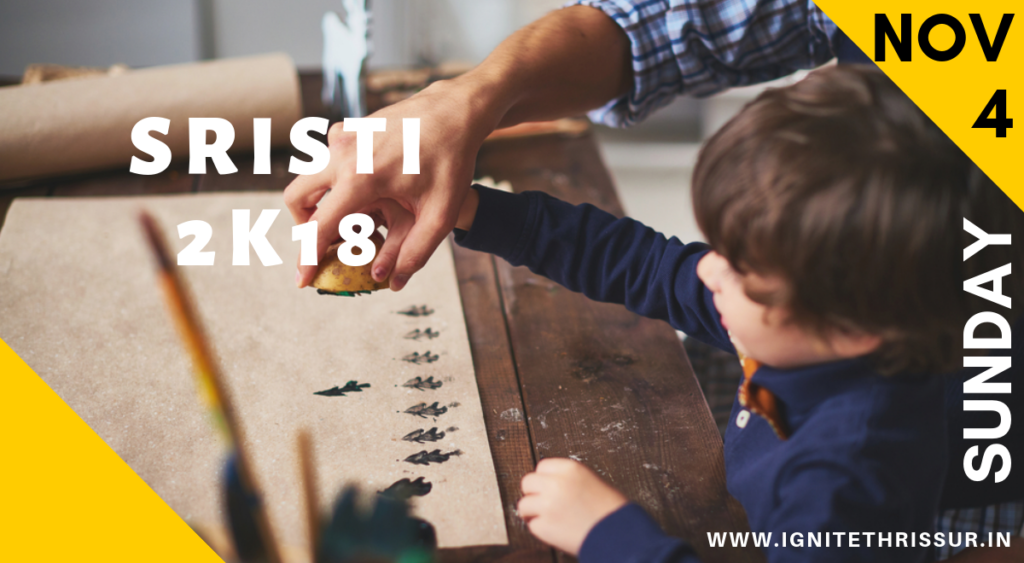 Through complete dedication and delivering quality education IGNITE has become one of the top institutions in Thrissur, Kerala. We bestow rich and quality education to all the teens and youngsters or the bright future. Ignite coaching center is managed by IITians and CEPT.
<>SRISTI 2018
This was an initiative of IIT alumni. We cater the educational need of every student from schools to postgraduate level. We provide expert training to make you excel in all your competitive exams. Rather than pass marks, we make you excel in your exams.
We provide student coaching for nata in Thrissur, the best coaching center for Kerala technical PSC, Industrial extension officer coaching, b.tech student coaching in Thrissur etc. Sristi is a program held in Ignite every year to bring out the creative ideas from our kids. We conduct the event Sristi in previous years. Sristi was celebrated in 2017 and also on April 13th of 2018.
Our results speak about us, so choose your course and join Ignite. These sort of events will make students relax their mind from the tensions of the competitive exams. Now lets us check the benefits a child gets while involving in a program like Sristi.
<>SRISTI 2018
Other than academics it is necessary for a child to take part in co-curricular activities. Other than relaxation this has lots of impacts in one's life. Some of them are:
Find your strength other than academics
Such programs will permit the students to research the strengths and abilities outside of academics. In the busy schedule of your life, you won't be able to recognize your interest areas. Lots of children will be embedded with multiple talents but they won't be aware of it. Only if we provide opportunities the talents of children will be able to bring out.
Best time management and organizational skills.
Games and activities are designed in a manner to improve the skills and mental power of children. It is easy to develop time management skills and organizational skills through various games.
The relevance of following through on commitments.
Such activities will instruct aspirants the importance of following through commitment. Working in a group activity will make you a sense of commitment. Because the success of group activities will depend upon all the members of that particular group. So automatically it will definitely make you more responsible than doing as an individual.
This provides an opportunity to build new friendships
There will students from different classrooms participating in different group items. This will help the children to build friendship outside the right circle of the regular classroom.
Build confidence and self-esteem
Participating and winning are the two face of a game. Here, winning a game will bring more confidence to the candidate. Fortunately, this winning mentality will increase your confidence level in exams too. Also, it will develop self-efficacy in you.  
Way to supervise outside of school hours.
This is one of the best ways to keep the students controlled outside of school hours. Nowadays it is quite difficult to control students especially teenagers. So planning Sristi type events will make them relaxed also it will provide a chance to manage your kids other than school hours.
Use your energy in positive way
Majority of teenagers are turning as a drug abuse or doing crimes. In this way, they are wasting their energy for doing negative things. If you get engaged in some works always you will never go behind anything. A positive mind can give lots of positive contributions to society. So games and creative events like Sristi will help you to convert your energy in positive directions
A classroom is a place where we share knowledge. It basically deals with academics. In the rush of exams, all forget about extracurricular skills. In olden days children find lots of time to study as well as play. But now, children don't have time to improve their skills. School, coaching etc their life will be tightly packed with different works.
So our institution is providing a platform for them to develop their skills other than the academics. Your skills will be developed which will be definitely useful for your future life.
Looks good on a college or school application
Getting grades or certificates for items can be mentioned in the application of higher studies. This will look different from others. Also, certificates on different events will be helpful in the future. Whatever be the event, certificates are always an asset to everyone. Each certificate is proof of attending a particular event. Somehow the certificates will help you at any moment of your life.
Know About Our Sristi 2017
On September 17th, 2017 Sunday, Ignite Thrissur proudly launched Sristi. It is a one-day event held for the complete development of the students. 75 B.Arch aspirants of our institution and other institutions attended the event. There was a talking session accompanied with creative workshops till evening. We are ardent about aiding our students to encourage their work and expand the skill in them. The architects who could put out their success stories to motivate the students are the custodians of Sristi. To give away the real-world hands-on experience in artworks and to bring out creative part of the young minds is the main objective of the event Sristi.  

Know about Sristi 2018 April 13th
A new and featured version of Sristi 2017 is Sristi version 2.1. This is a one-day event held on April 13, 2018, at Ignite. This event was planned in such a manner to incorporate as many students who attend the event. The time was filled with more interesting events. This was a great success. More than 100 B. Arch candidates actively take part in Sristi 2.1. This event helped various students from different backgrounds to learn, interact, and share their knowledge. The event will be done with practical workshops, seminars, and guest lectures etc to showcase their talents in various competitive examinations. The fun elements and events made the entire convention thrill, sporty, and joyous.
Know about Sristi 4th November 2018
Ignite had planned Sristi on November 4th Sunday at Ignite for Architecture, NIFT, NID candidates. The event will be held at Ignite, Thrissur. All students of Ignite are invited. The event starts from 9.00AM to 04.00 PM on November 4th, Sunday. There will exclusive workshops for photography and junkyard designs. Also, the event will be packed with lots of entertaining events to bring out the creative minds of young ones. Sristi is a big proof to show that we, ignite is passionate too about helping our students to promote their work and grow the caliber in them. Don't wait, join us on 4th November at Ignite and let us rock the event together.
Some conditions for attending Sristi event are:
All students of Ignite institution can participate in this event

Candidates of Ignite are free to take one of their friends with them.

Interested outside candidates who wish to attend the event can register in the event by making a small payment.

Every student who attends the event will get a certificate of participation.
IGNITE welcomes you all to the grand event SRISTI 2018. Time is very precious, utilize it in the best way.  
---