UPDATE WITH IEO EXAMINATION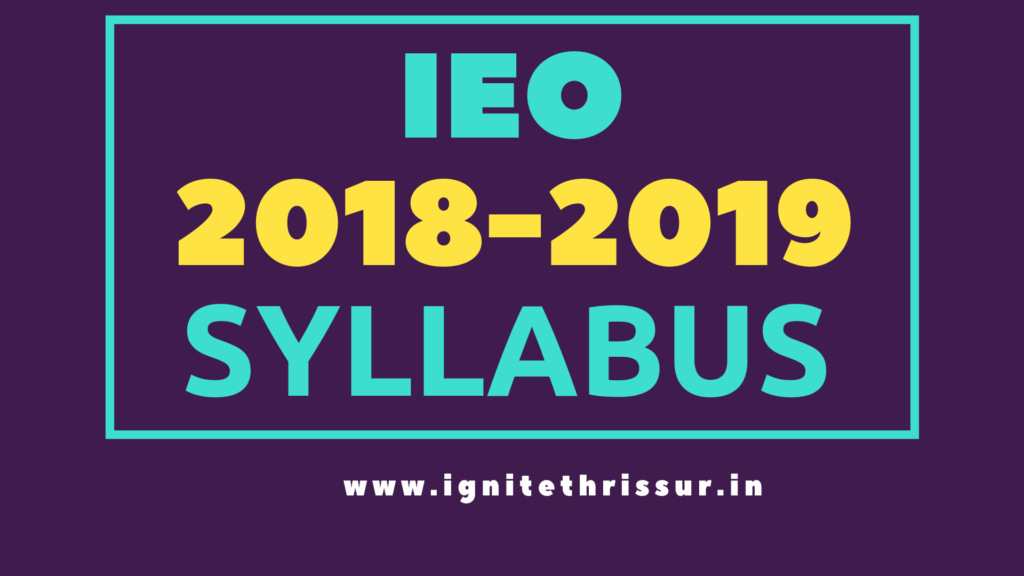 Industries Extension Officer is a job which stands equals with a gazetted job. Yet it is not considered in the list of a  gazetted job, it shares a similar salary to that of a gazetted officer. Promoting various industries is the major role of an industrial extension officer especially MSME that is Micro Small and Medium Enterprises. The qualified candidate's name will remain in the list for a minimum period of one year on a condition that the existing list will survive until the updation of a new list or till the expiry of three years whichever is earlier.
<>IGNITE
He/she will be assigned with numerous projects. After spending a few days in the office the candidate will be engaged with field work, allowing to get touch with MSME units.
You will be posted some other place which helps to attain the task more easily after undergoing training for a few months. Candidates between 18-35 age limit are only eligible to apply for this post.
The selected candidates need to undergo special training in different places time to time for four and a half months being in service after the completion of the selection process.
Newly recruited IEO officers are posted in Taluk Industries Center. Considering the experience and age, the post of an industrial extension officer will be headed to senior levels. IGNITE provides best industries extension officer coaching in Thrissur to make you excel in exams.
From  35700 to 75600 is the expected salary of an ieo officer.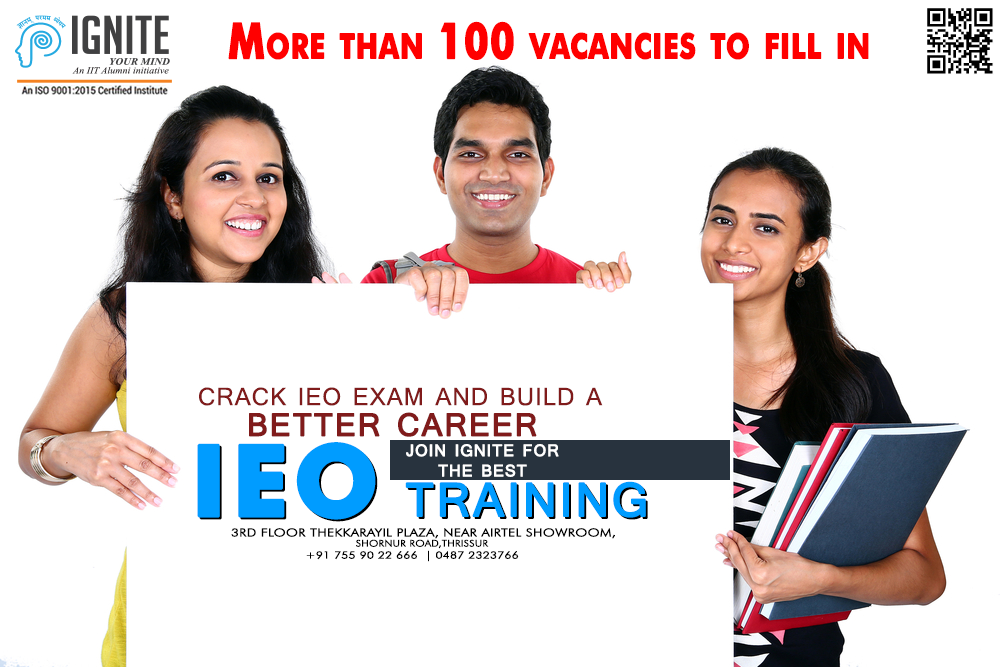 Mode Of Examination
Written Test

Personal Interview
The major test categories are the written test, personal interview, document verification. This exam is conducted in two different rounds.
One is written test that is common for all who appear to the exam. Another round is the personal interview. The candidates who possess minimum qualifying marks in the written test will be asked to attend the interview along with the required documents for verification.  
Syllabus For IEO Exam 2018-2019
The syllabus provided by Kerala psc Industries extension officer coaching in Thrissur is provided in detail below:
Stress and strain, principal stresses and strains, temperature stress, theory of simple bending, torsion formula, thin cylinders, thick cylinders, analysis of frames, direct and bending stresses, core of a section, short columns and long columns, consistent deformation method.
Geotechnical engineering: Three phase system, index properties, shear strength, consolidation characteristics, compaction, stability of slopes, bearing capacity, settlement, shallow foundations, pile foundations. Building materials and Concrete technology: Stone, brick, timber, alternate building materials, types of cement, tests for cement, types of concrete, workability, tests for hardened concrete, non destructive tests.
Basic Mechanical Engineering
Concepts of thermodynamics, system, process, cycle Three Laws of thermodynamics, Carnot cycle, Air cycles, properties of steam, Rankine cycle, Brayton cycle, methods for improving the efficiency of these cycles.
Fluid Mechanics: Density, specific weight, viscosity, surface tension, pressure, Pascal's law, fluid dynamics: velocity, acceleration, Bernoulli's theorem, continuity equation, momentum equation, pressure loss, major and minor losses, Hydraulic Machines: Impact of jets, Hydraulic Turbines: Impulse and Reaction and related accessories, Positive displacement pumps, rotodynamic pumps-, selection of pumps.
Mechanics of machines: Machine and mechanisms, Types of Mechanisms, Mechanical vibrations: Types of vibrations, Basic elements of a vibrating system, Un-damped force vibrations, Free vibrations with viscous damping, logarithmic decrement, forced vibrations, vibration isolation and transmissibility Manufacturing process: Casting, forging, rolling, welding, soldering and brazing. Machining processes, turning, taper turning, thread cutting, shaping, drilling, grinding, milling. Principle, application and advantages of CNC machines. Electro chemical and discharge machining.
Basic Computer Science Engineering
Introduction to digital computer – A simple model of computer with acquisition of data, storage of data, processing of data, output of processed data.
Details of functional units of a computer, primary storage and secondary storage; Data representation – Number systems – Binary numbers – representation of integers – representation of fractions – octal and hexadecimal representations – conversion from one system to another – representation of BCD numbers.
Simple arithmetic operations; Introduction to programming languages: Types of programming languages – high-level language, assembly language and machine language, System software – Operating systems – objectives of operating systems, compiler, assembler and interpreter (concepts only);
Problem Solving strategies: Problem analysis – formal definition of problem – Solution – breaking a problem into subproblems- overview of the solution to the sub problems by writing step by step procedure (algorithm) – representation of procedure by flowchart.
Basic Electrical Engineering
Elementary concepts of electric circuits: Kirchhoff's laws, node voltage and mesh current methods, supernode and super mesh analysis; average, RMS values and form factor of alternating current, Analysis of simple ac circuits, Solution of RL, RC and RLC circuits; Three phase systems: star and delta connection, power in three phase circuits; Measurement of power in three phase circuits – Working of energy meters; Generation of power, Power transmission and distribution:: hydroelectric, thermal and nuclear power plants.
Renewable energy sources; Typical electrical power transmission scheme, substation equipment, primary and secondary transmission and distribution systems; Electrical Machines: Transformers- single and three phase construction, losses, efficiency; D.C. Machines-Types, characteristics, applications; A.C. Machines – three phase and single phase induction motors, alternators and synchronous motors; Tariff and Wiring systems: Different types of LT and HT consumers, tariff schemes; wiring different types, meter board and distribution board, earthing of installations, protective fuses, MCB, ELCB.
Basic Electronics and Communication Engineering
P, N type semiconductors – doping – principles and characteristics of diodes, transistors – half bridge and full bridge rectifiers – RC filters for power supply Principles of amplifiers – performance parameters of amplifiers – RC oscillators- negative feedback – boolean algebra – truth table – adder, multiplexer, encoder, using primary gates – flip flops as memory elements – synchronous counters Principles of amplitude modulation and frequency modulation – frequency and time division multiplexing – sampling of information signals – analog to digital conversion principles – digital to analog conversion principles.
Examination Pattern
This is a government oriented exam held to the recruit staffs to serve the government in various fields. This is a 3 hours based exam consisting of 200 questions from different categories.
The paper consists of two parts: Part I is mathematics and English and Part II is general knowledge and general science. Industrial extension officer coaching will enable you to crack the exam at the very first try.
Why Ignite For Industrial Extension Officer Tuition?
You must be very careful while choosing an institution for your child. Years of excellence and the quality of faculties is the most important thing.
Through complete dedication in delivering quality education IGNITE has become one of the top institutions in Kerala. For a bright future to all teens and youngsters, Ignite stands ahead to impart quality education. This coaching center is managed by IITians and CEPT.
From schools to postgraduate students Ignite caters education worldwide. Our training will make you capable to prepare for any competitive exams.
With an impressive success rate IGNITE is the best coaching centre for Kerala technical PSC and SSC in Thrissur. With years of experience, Ignite stands ahead for all sorts of PSC, SSC, nata, JEE coachings and also for technical tuitions like B.Tech, M.Tech, diploma, B.Com etc other than this they also provide tuition for higher secondary candidates who need help to excel in their exams.
IEO exam is one of the toughest exam to pass out. Hence IGNITE provides Kpsc ieo coaching classes in Kerala, Thrissur for interested candidates.
Our industries extension officer coaching in Thrissur offers highly professional classes from expert faculties. We let the candidate understand the subject through an easy learning process. Also, prepare the students for the exam with the precisely arranged mock test.
This will make them enable to excel in the psc exam at the very first time. Ignite is the best coaching center in Thrissur for Industries extension officer coaching in Thrissur ensure you a quality knowledge and better confidence to pass the examination.
Industrial Extension Officer coaching will be provided till the IEO exam starts. Classes will be held on all sundays and on all public holidays. Classes will be leaded by the experienced faculties having years of experience in this field.
Other courses offered at Ignite is Nata coaching, B.Tech tuition, higher secondary tuition, technical PSC coaching, LET coaching, diploma tuition, B.Com tuition, B.Sc tuition, M.Tech tuition.
We had conducted an award ceremony in the name Invicta in 2017, 2017 for students who had scored high marks in nata examination in corresponding years. And afterward, provide a career guidance class for candidates on various courses. Our students and faculties are the backbones of our institution.
The Special Features That Make Ignite Special From Others
Regular model exams for IEO.

For each level exam, there will be special training given for every candidate.

Bulk set of question papers will be provided for reference.

Get the assistance of professional faculties to train each section.

Precious examination tips.

Individual or batch-wise coaching is available.

Mock test

Continuous assistance

Individual attention

For any further assistance you can get in touch with us by logging into our official website www.ignitethrissur.in or reach us at 3rd Floor Thekkarayil Plaza, Near Airtel Showroom, Shornur Road, Thrissur. You can also mail us to the email id ignitethrissur@gmail.com. Feel free to call us on 0487 2323766 or +91 755 90 22 66.
---