Vacation Batch for NATA – JEE Aspirants
architectural degree, Architecture, architecture entrance coaching, IGNITE, JEE 2019, JEE Arch coaching in Thrissur, JEE Arch entrance coaching in Kerala, JEE Arch Thrissur, NATA 2019, NATA Coaching, NATA coaching centre in thrissur, NATA coaching centres in Kerala, NATA coaching in Kerala, NATA Results, online NATA coaching, Scolarship, SSC JE
0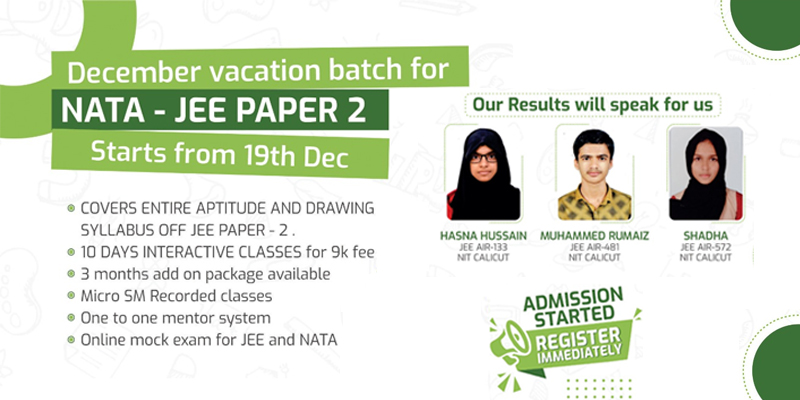 Ignite Academy has become a promising path for many architecture aspirants to achieve their dreams and a great future. Knowing the difficulties and requirements of architecture aspirants at this pandemic time, favoring the needs of students we have decided to start a new batch on 19th December. This Dec vacation batch is only for 10 days class that utilizes the Christmas holiday to create a new beginning in students' life.
This course includes the complete aptitude and drawing syllabus of JEE paper- 2. Our experienced faculties can give you a great learning experience out there because all the classes are prepared very clear and exam-oriented. This course long for 10 days with complete interactive sessions along with enough time for clearing all your doughts regarding studies. We also provide online mock test for JEE and NATA students to speed up their abilities and to avoid unwanted exam tensions. These tests are prepared by our experienced faculties by researching past year question papers aiming a good score in coming exams.
Moreover all, each student is precious for Ignite Academy, We know that information gaining capabilities of each individual may vary, so that we have implemented micro SD recorded classes for students to learn or clear their doughts in further revisions. We also provide one to one mentor system education to confirm every student is equally treated and learned and students are free to contact their faculties anytime regarding their studies. The overall course fee is only 9K which includes add on packages of 3 months with some extra payment available.
Please feel free to contact us regarding any information on NATA, JEE exams because Ignite Academy is one of the top-ranked academies in Kerala which is an initiative of IIT alumni that is been running successfully by IITians and CEPT. Ignite Motto itself is to fill the youngsters with quality rich education, molding and blessing our youngsters to succeed a brighter future in their academics. Thank you.
---