DO YOU WISH TO CRACK A DESIGNING CAREER IN IIT AND NIT?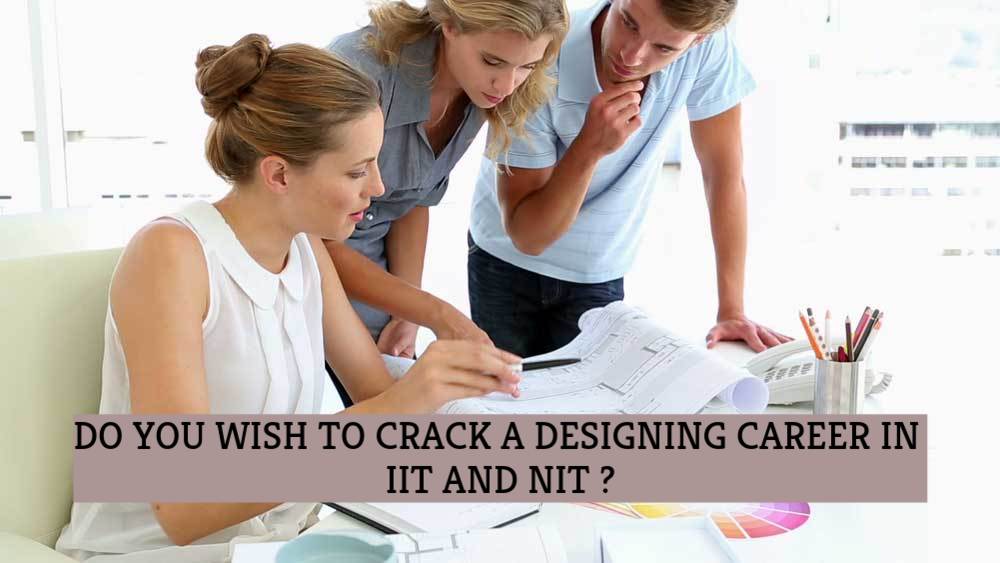 Similar to pound and dollar there was no any symbol for Indian rupees till 2010. But after that from the designs of millions, the design of Dr. Udayakumar associate Professor and Head in the department of the design was selected as the ₹ Indian Rupee symbol. It was the simplest design which has the potential to take us to the concept of the rupee. All companies and industries are searching for something like this. It should be simple but relevant. From small toys to big products design is an essential factor. In every field, design plays a crucial role. Drawing skills and creativity is what we require to excel in this field.
Now its time to apply for various designing courses in degree and PG level. To get admission in NITs and IITs you should pass UCEED to get degree level admission and CEED to get PG level admission. National Institute had called admission for many designing courses. To crack UCEED and CEED is not like another entrance exams. It needs regular coaching, hard work and dedication are required to crack this exam.
What Is CEED?
CEED stands for Common Entrance Examination for Design. It is a joint entrance examination held for post-graduate students in the field of technological design. It is held conjointly annually at all IITs and IISc(Indian Institute of Science). The exam is emceed by the Industrial Design Centre, Indian Institute of Technology Bombay in the account of Ministry of Human Resource Development, Government of India. It is a detailed test encompassing a student's creative, observation, logical, and drawing skills. For admission in various design courses in the field of animation graphics, vehicle design, product design, industrial design, visual communication, and mobility the above-mentioned tests are very much essential.
No restrictions of age ban the candidate from writing the exam as well a candidate can attend the exam for the number of times. A bachelor's degree in design, Architecture, Fine Arts or Engineering from a renowned University is the minimum academic qualification needed for the candidate to appear the exam. Candidates with a valid CEED score will become eligible to apply for admission to various design courses under IITs and IISc. A candidate is not supposed for getting an admission to the desired institute he/she need to appear for the second test known as the Design Aptitude Test(DAT). An interview will be held thereafter before the final selection by the respective institutes.
The CEED exam of 2019 consists of two sections- Part A and Part B. t is conducted with a goal of testing an aspirant's aptitude for design. Hence, CEED aims in testing the designing capability, the exam consists of questions from creativity, drawing skills, candidate's visual perception ability, communication skills, as well as logical reasoning. The scores of CEED examination will be valid only for a year from the date of declaration of results.
CEED 2019 Process
Step 1: Fill CEED 2019 Application Form
CEED is an online exam in which candidates must start by filling their application form on the official website of the exam. Through debit card, net banking, or credit card the candidate can remit their exam fees, once paid it is not refundable. Candidates are responsible for the transaction charges too.
Step 2: Download CEED 2019 Admit Card
From the official website of the exam from November to December 2017 the aspirants need to download the admit card for CEED 2019. Also, the aspirant must bring a coloured print of CEED to admit along with them to the exam centre, otherwise they won't be allowed to write the examination.
Step 3: Take CEED 2019 Exam
The tests consist of two parts- part A and part B. with objective type questions part A will be held from 10 am to 11 am whereas part B comprises of design as well as handwriting type questions which are conducted from 11 am to 1 pm.
Step 4: Check CEED Result
CEED score and rank can be checked by the candidate on the official website of the design entrance exam by filling in their registered email address and password on the official website of Common Entrance Examination for Design. Candidates who have qualified part A exam will only be considered or evaluating part B of CEED exam.
Step 5: Post CEED 2019 Exam
It is already mentioned above that those candidates who have qualified CEED exam are not guaranteed admission in any of the courses or colleges. They need to appear admission tests, interviews conducted by the admitting colleges. By considering the candidate performance in CEED 2019 the concerned college will provide a weightage to the aspirant's performance and thereafter the merit list for admission is released.
CEED Exam Centers For 2019
2019 CEEd examination centers have been declared the 24 test cities are:
Compulsorily the candidate needs to select any three cities as per their preference. Also, if an adequate number of candidates is not available in the city, then that particular city will be dropped from the final list and the registered candidates will be shifted to the nearby exam centre or they will be considered with their second or third choice.
What is UCEED?
UCEED stands for an Undergraduate Common Entrance Exam for Design. IIT is taking admissions for the design course in this way. Candidates with high creativity, aptitude, Visualization and Problem Solving skills are much encouraged to apply. Aspirants who qualified UCEED need to apply for admission as per the rules prescribed by the college. All stream aspirants(Science, Arts, Commerce) who have cleared 10th and Plus two are eligible to apply for this exam.
Every year UCEED exam application form is made available in the month of October and the exam is conducted in the month of January. Online application forms will be available from the second week of October 2018. It is a computer-based exam divided into different sections. They are Numerical Answer Type(NAT) questions, Multiple Select Questions(MSQ), and Multiple Choice Questions(MCQ). There are two sections- Section A and Section B in which every correct answer will be awarded 3 marks and no negative marks will be deducted from their total score for the incorrect answers. While in section C, 3 marks will be awarded to their total score for every correct answer and one mark will be deducted for every wrong answer.
The age limit for writing UCEED exam is the candidate must have been born on or after 1st October 1998 if he/she belongs to general category or OBC-NCL category, and on or after 1st October 1993 if belonging to the SC/ST or PwD category. A candidate can attempt for a maximum of two in consecutive years. Remember the UCEED score will remain only for admissions in the corresponding year.
UCEED 2019 Process
Step 1: Fill UCEED Application Form
Registration is the initial step of UCEEd exam. The candidate must register into the site with a mail Id and a password. Afterward, he/she should fill the application form on the official website of the exam. Fees can be remitted through net banking, credit card, and debit card. Once the registration is completed the application fees will be neither refundable or nor transferable.
Step 2: Download UCEED Admit Card
After filling all the documents and uploading all necessary documents with the payment of fees the candidate can download their admit card. This card will incorporate the candidate's name, roll number, signature, photo, examination date, centre etc.
Step 3: Appear For UCEED 2019
UCEED exams are generally held in the month of January. This contains three sections like numerical answer type questions, multiple select questions, and multiple choice questions.
Step 4: Check UCEED Result 2019
By using the registration number and roll number the candidates can check whether their names are shortlisted in the official website of UCEED.
Step 5: Take Part In Counselling & Check The Final Rank List
After analyzing the performance in the counseling process the merit list will be published. Three individual lists will be published and the final merit list will be published in the month of July every year.
UCEED Exam Centers For 2019
The given above are the 20 cities of 2019 in India for UCEED exam. It is must that a candidate should choose three different places at the time of registration.
Tips To Crack UCEED and CEED Exam By Dr. Udaya Kumar
Creativity is equally or more important than drawing skills.

Speed is the most essential part of this exam

Candidate must possess a basic knowledge of Science, Mathematics, Graphics, colours, Blueprints etc.

The aspirant should know about the famous portraits, statues, sculptures inside and outside the world because they are frequently asked questions in exams.

Previous years question papers are available in CEED as well as UCEED website. Practice with the previous 4 years question papers before attempting the exam.
IGNITE is the number coaching centre in Thrissur district imparting knowledge to multifarious candidates all over the world. Through a thorough Nata coaching, you can easily access UCEED and CEED exam because the best coaching for nata provides almost the same as its syllabus. Other than this Ignite provides Classes For Architecture exam in Thrissur, JEE Arch entrance coaching in Thrissur, architecture entrance coaching in Thrissur etc. Regular Mock tests, providing students with great exam tips, individual attention to students, exam-oriented training, etc are a few features of Ignite.
<>Centre For Nata Coaching
---