A Blog For The Real Dreamers Of Architecture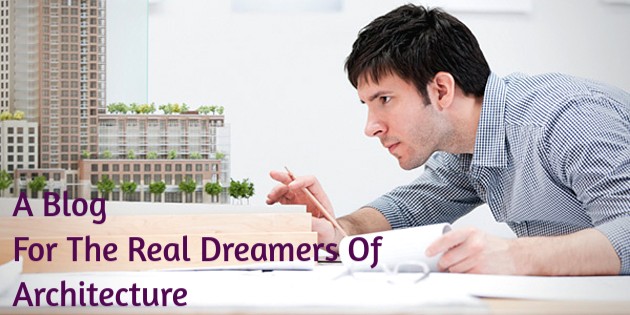 Plus two pass out students is not much familiar with the courses outside their view. When they face a question for B.Arch the first and foremost answer will be no. It's said so because they think B.Arch is meant for those who high skills in drawing. Actually, this is a false belief. This thought should be discarded first from your minds. It is the combination of art and technology. Planning, designing of buildings, homes etc are the main subjects of B.Arch coaching. An architecture is not only upheld a designer work for a body but also they work hard to bring happiness and peace atmosphere to the building. As long as life exists the buildings and houses too remain the same. In case B.Arch engineers won't lose their demand as long life exists in the earth. City-urban planning, landscape design, interior design, ensure safety to buildings, eco-friendly construction of the building, building sustainable body are a few works which cannot be completed without the help of an Architecture.
Why choose architecture after plus two?
Going around designing new buildings an architect is a sort of an inventor. They are said so because they have the potential to transform the concepts on paper to real buildings.

While designing buildings this course provides you with lots of opportunities to showcase your creativity and ingenuity.

Compared to other fields this field has a wide scope once you finished your course. This is a high paid job if you are embedded with fresh and new ideas.

With diverse subjects, this field attracts the most creative and romantic minds in the world.

It is the most challenging as well as an enjoyable job.

It is a very active field with any sort of human interactions, building scale models, real-life assignments etc.

This field provides the chance to work on real-life problems of designing functional buildings.

This is a perfect job for those who love travelling. Because as a part of this job, there will be situations to travel a long way to visit the construction site.

Architecture students need not worry about tuitions because

NATA coaching

is available with one-to-one coaching with flexible time.
Take a trail before the exam
Join Ignite and experience the best coaching for nata. We provide a mock test to the candidates before exams to make them confident in their exams. In India, Nata entrance exam is a compulsory criterion for taking admission in any college of the Architectural college. Candidates after plus one and plus two studies with an average marks in Physics, Chemistry and Mathematics are compulsory for writing nata entrance examination.
What is the expected salary for an Architecture?
In this category, even freshers will be provided with a salary of Rs 50,000 per month. There is no doubt that an architecture field will never make you regret your decision.
Which are the institutions for studying Architecture?
* School of planning and architecture in New Delhi.
* IIT in Roorkee, Kharagpur, Rourkela.
* NIT in Tiruchirappalli, Kozhikode.
* Jamia Millia Islamia University, New Delhi.
* Rajiv Gandhi institute of technology Kottayam.
* Centre for environmental planning and technology in Ahmedabad.
There are also many private centres giving training for becoming an architect.
Tips to prepare for a NATA exam
Logic, aptitude, drawing are the main three aspects of Nata exam. A candidate should possess good knowledge in these three sections to score good marks in nata exam. To crack nata exam is a simple task. It needs continuous hard work and dedication and support. Support from a good NATA coaching centre will help you to crack the exam easily. Check with a few tips provided by NATA entrance coaching in Thrissur:
Logic: The major part of this section consists of logic questions. Series, sequence, logarithm, matrix etc are the main areas from which questions will be asked.
Aptitude: Numerical, reasoning, verbal and non-verbal are the main section in it. General knowledge questions will be considered in this field. History related questions, about famous monuments, their specialities, important artistic works, architectural terminology, instruments etc are the other sides of questioning.
Drawing: Here the ability of a person to draw pictures from all views like 2D, 3D etc will be measured. It also considers the skills in differentiating light and shadow of images.
What is its career aspects?
Its opportunities are flooded in a wide range. Some of them are:
Architect

Architectural Designer

Engineer

Interior Designer

Town Planning

Surveying

Consultancy

Interior Designing

Documentation in private companies

Urban Development

Architectural Department

Consultation Corporation
Those who had completed their master's degree can get the opportunity to work in colleges and also can practise as an engineer. With the permission of the council of architecture registration, one who had completed B.Arch course can practise as an architect. This is the best and better way to start a new venture. In the film industry, we can see the presence of architecture background aspirants especially in film site design, project design etc. Since our world has completely changed to smart cities the demand for architects are rapidly rising in our day to day life.
In each and every field design is very important nowadays. Creativity is what a designer wants more than the drawing skill. Ignite, number one NATA coaching in Kerala train students with the previous year's questions banks. In exam, viewpoint speed is also a major criterion. Online test and drawing test are the two sectors of this exam. The test is done in two ways, one is paper drawing test and the other is computer-based online test.
Why Ignite?
Ignite offers result oriented best coaching for nata with experienced faculties. Hard work and dedication is the key towards the success of nata exam. Ignite offers productive and interactive sessions for both drawing tests as well as an aesthetic sensitivity test. Technical and non-technical staffs are the backbone of our institute. Considering the interest and weakness of a student we know how to deal and mould a student in the proper way for the exam. If you are a person who really dreams to become an architect and if you have the heart and determination to work then Ignite is the right place to join. Also, Ignite assures you to help with it even if you don't have these. Other than Nata coaching Ignite provides coachings for higher secondary tuitions, LET coaching, Technical coaching, SSC coaching, PSC coaching, Diploma tuition, Btech tuition for KTU students in Thrissur, M.Tech tuition, B.Sc tuition, B.Com tuition.
Features offered at Ignite
Our first and foremost pride is our students, upheld with excellent results.

We are rich with a best team and faculties with vast experience.

Our study materials and classes are prepared by the Alumni of IIT and CEPT.

We assure individual attention for all students

We offer great examination tips to all students.

Exam oriented training is our speciality.

We also provide a regular Mock test to build up the confidence level of our students.

Flexible classes are available.

Sunday batch, regular batch are available as per the requirement of the students.
For more information, you can go into IGNITE's official website www.ignitethrissur.in. Also, visit our office in Thrissur for further enquiries.
<>Coaching Classes For Architecture Entrance Exam In Thrissur
---