NATA Online Coaching by Ignite Thrissur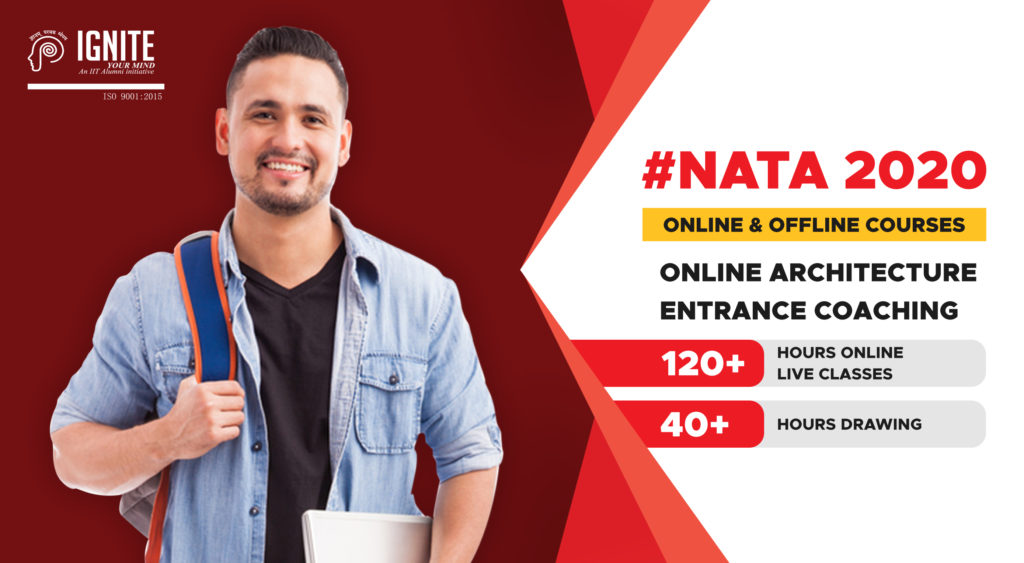 The National Aptitude Test in Architecture (NATA) is an examination conducted by the National Institute of Advanced Studies in Architecture to sort out the eligible candidates for undergraduate programs in B.Tech Architecture. Every year India requires around one lakh architects to create a better nation but Only 20% of this requirement is actually satisfied. According to the reports published nearby, only below 25000 students are graduated in this field where the requirements tend to be one lack. Such a huge insufficiency in this field made this profession one of the demanding jobs in India even outside. This is the perfect time to begin your career in this profession.
Before the discussion of NATA coaching, let's go through some of the reasons why a career in architecture is going to be the best decision in your life. Transforming your innovation, design, hard work to a real experience is always a remarkable moment in your life. Of course, yes, you are going to feel this happiness and pleasure throughout this profession. Crossing up from the theoretical studies, you are going to explore your creativity, your imagination to real achievements. It's always challenging to earn for your passion or creativity but architecture does, it is going to be one of the demanding & high paying careers in upcoming years. Also, you are getting chances to go through different paths like art, history, material science, physics, and engineering throughout your studies and profession. More apart from other professions, you work in a real-life scenario with a hands-on approach and you are not going to feel any type of work monotony. Last year around 40,000 candidates appeared for the NATA exam. Of course, yes, some candidates smoothly cleared the exam but few were not even able to qualify the exam. There are a lot of NATA aspirants all across Kerala. Some are born talented, but some with low talent where some else are moves through a flow. In all these categories everyone required is a good NATA coaching to land with a seat in top architecture colleges. Candidates feel this exam too hard to learn because they may be sometimes running lack of time, or not able for a proper scheduling of time, less concentration, fear, whatever the reason, they are also totally inspired to be part of this field. 
Ignite NATA coaching center is one of the leading NATA coaching centers in Thrissur, Kerala demanding to bring out the inspiring Architecture students, helping them, leading them, strengthening them to produce the best results. A lot of candidates have secured top-class records with Ignite. Every student is valuable for Ignite academy, understanding every student's needs and today's spreading health problems leads to an online NATA coaching powered by Ignite which makes every student focusing on their dreams even in less time, effort thus being smarter and faster. Ignite has created this online NATA coaching from a fire of deep learning of candidates' requirements, making students fueling enough to bring out the best in their exam and life. Now let's discuss in intensely about the benefits and procedures of NATA online coaching
Nata online coaching is a trending approach of learning to students nowadays because of flexibility in time and easy learning manner. Moreover, Online NATA coaching gives each individual personal attention throughout the course and they are capable of learning smarter and faster than classroom tradition. Online NATA coaching provides quality study materials after continuous research in subjects by the experts to create the best relevant syllabus.
Ignite, the leading NATA coaching center in Thrissur is organizing new online classes from 25th march. The features of Ignite's Online NATA coaching made their students more interesting in their studies. Some of the key features are daily online assignments, valuation of drawing que with commends, Daily mentor messages and access to contact mentor via message mail and in case of emergency by calls. Better interaction in your doughts through phone calls and online features. Ignite doesn't charge any charge for their students for online NATA classes. Now, let's have a look at the effective online pattern followed by ignite. Ignites Nata online mock tests, it's an online exam practice where more NATA Exam questions are added for the benefit of students aiming for a high score in the NATA exam. This flexible pattern of study is made by continuous research and updations of faculties in Ignite. Moving to a deep explanation, each online NATA Test includes Objective type questions in accordance with the Nata 2020 model, successfully followed by generation of a drawing paper with 3 questions with a time limit of 2 hours, this time is gifted to the students for sketching, scanning and finally upload the outputs they have created which would be further assessed by faculties. Analyzing each model test, faculties will respond with feedback messages including their performance, and suggestions to improve their performance. Due to several health issues in the present situation as per government instruction regular classes are discontinued for a short while. If the Government lift ban, regular offline(classroom) class will be provided immediately for students.
Moreover, Ignite is strengthening their students filling them with numerous improvements and qualities to crack the exam. Some of the qualities are, Students are getting exposed nature towards the online exam, this gradually develops their time management skills as every question has got a particular time to answer based on its difficulty levels. As there is a time limit for each question, students automatically improve speed in thinking, mental calculations, on-screen reading, on-time clicking, etc. Some students have fear in exams when it comes to the online test, such fears can be eliminated up to a limit. Overall, they get continuous exposure towards the on-going NATA theory & sketching questions resulting to crack top NATA score. such a long practice in students will surely help them to land with a merit seat in top architecture colleges.
Ignite coaching center as the leading coaching center in Thrissur is weighted with professionals and experts to give the top-class coaching for every student trusting them. Ignite is an initiative of IIT alumni, managed by IITians and CEPT. Ignite coaching center in Thrissur is always ready to give a helping hand for every student for all their educational needs. Apart from imparting education, Ignite also engaged in many activities that motivate the students. Presently Ignite is organizing new online classes from 25th march. So, join Ignite, think smarter, learn faster and score the best because Ignite let your dreams fly higher. 
---