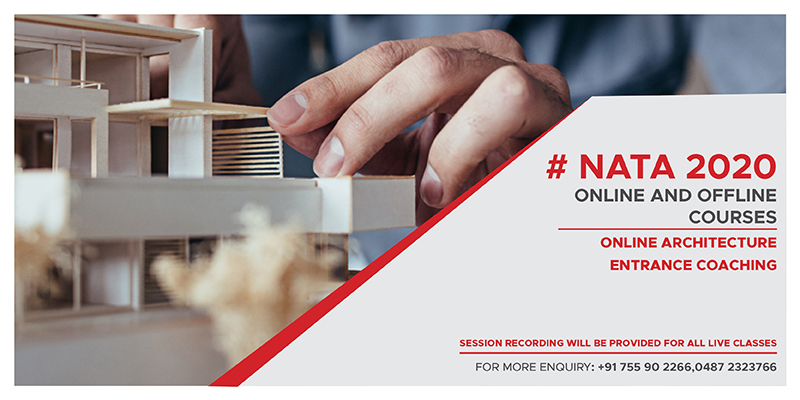 The Council of Architecture leads the National Aptitude Test in Architecture (NATA) entrance exam to sort out the eligible candidates for admission to the First year of B.Arch Degree. The main factors measured throughout the exam are the candidates thinking ability, observation skills, aesthetic sensitivity, sense of proportion, etc. Of course yes these skills can't be achieved without proper guidelines or coaching. In this digitalized world, technology made everything smarter and simple. Moreover, to the present situation of this world, our youngsters are interested mainly to find their answers for everything by researching the internet because the internet made everything easier and also a lot of information is available in our hands within a short while. Here is the role of Online NATA coaching for aspiring architectural youngsters. Let's move towards the benefits of Online NATA coaching.
Online NATA coaching is the best option for aspiring architectural candidates in terms of the convenience factor because it is not too much time-consuming and also provides you a chance to develop your career in your comfort zone itself. Moreover, it is quite reasonable as analysed to offline courses in the present system. Mainly Online NATA coaching provides the most comprehensive content that is carefully divided into small chapters and topics for practicing easier thus helping each candidate observing and focusing on their own weak areas. Online NATA coaching included mock tests that assist them to realize their stronger areas. Students following online NATA coaching will be surely able to manage their time which is one of the important keys for success in NATA entrance. Moreover, online NATA coaching each chapter will be ending with Short & Crisp notes that will encourage students to revise the subject in short of time. These are some of the main benefits you will learn through online NATA coaching but it's not the end, there are a lot of other advantages. If you wanna go in deep, here is the explanation you are searching for;
As this exam is tough to crack without proper guidelines, but Coaching from institutes like Ignite Thrissur gives greater opportunity for young aspirants by providing adequate details on "how to crack this exam within a short period of time". By the introduction of online NATA coaching made it easier for the students to crack this exam. Online NATA coaching presents the best way to begin your preparation following from "how to maintain a timetable and how to work throughout the syllabus". Online NATA coaching is well planned such that its structured portions or chapters made students stay focused and study well. As online NATA coaching deals with mock tests, a clear idea about the distribution of marks, the model of questions and method of answering will be more familiar to the students. Gradually learning all aspects of this exam including topics like memory drawing, 3-dimensional elements, scales, and proportions, etc.
Even though Online NATA coaching includes all the necessary measures to crack the entrance, it also exposes an opportunity to students revealing the importance of self-study. Because self-study is the major talent all aspiring architects should purse in their careers and life. If you are willing to begin a career in architecture, online NATA coaching classes will be the best option you can get in your comfort. Moreover, everything has its own limits. "Practice makes a man perfect" Right? Try hard, learn smarter, start earning faster. Ignite Online NATA coaching is one of the best coachings you can get because their experts in this field have worked a lot to formulate out the best online NATA coaching. You can go through their website to count a lot of achievements they have accomplished in their journey with their students.
---