KERALA ADMINISTRATIVE SERVICE (KAS) WITH IGNITE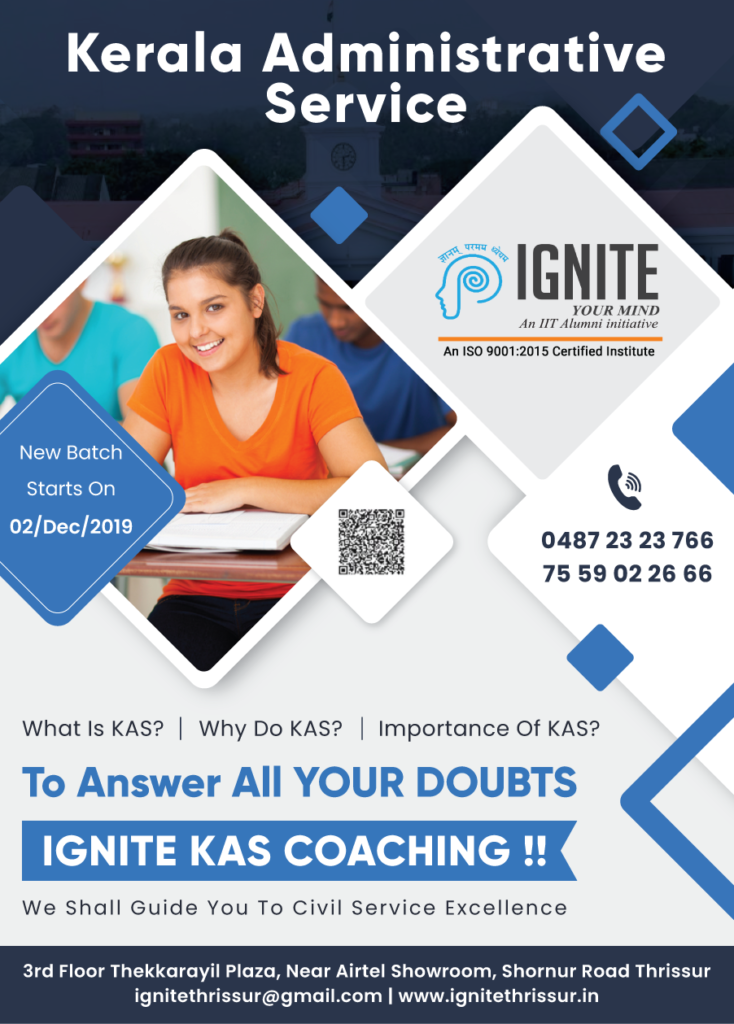 Hey guys,
Did you know that the official notification for the KAS exam has been announced?
Want to know more? Keep reading.
The Announcement
November 1, 2019, was a historic day for Kerala, mainly for two things. One was the 'Kerala Piravi Day' and the other one was the official announcement of the much-awaited Kerala Administrative Service exam a.k.a KAS exam by the Kerala Public Service Commission (KPSC).
So, why is it much awaited?
Well, this is the first time the KPSC is conducting this exam in Kerala. Also, it is one of the most important exams which, if you get selected, you are directly appointed in the state administrative sector.
There are many other reasons for applying this exam:
Direct recruitment

65000+ starting salary

Diverse working environment

Promotion to IAS posts
With a strict study schedule and the best coaching from a reputed institute, you can clear the exam in the first attempt itself.
The Streams
What you must know about KAS is that the recruitment process is conducted for three streams which are Stream-1, Stream-2 & Stream-3. The basic educational qualification needed for KAS exam is a bachelor's degree in any subject from a recognized university.
KAS officer Stream-1 (Junior Time Scale Trainee)
Category number: 186/2019

Method of appointment: Direct recruitment

Qualifications

21-31 (Must be born between 2.01.1987- 01.01.1998)

Should have a degree in any subject from a recognized university
KAS officer Stream-2 (Senior Time Scale)
Category number: 187/2019

Method of appointment: Direct recruitment from permanent govt. Employees or those who have successfully completed at least two years of probation. 

Qualifications

21-41 (Must be born between 2.01.1979- 01.01.1998)

Should have a degree in any subject
KAS officer Stream-3 (Selection Grade Time Scale)
Category number: 188/2019

Method of appointment: Direct recruitment for employees working in 1st gazetted ranks and above.

Qualifications

Must not exceed 50 years as of 01.01.19

A degree in any subject
The Exam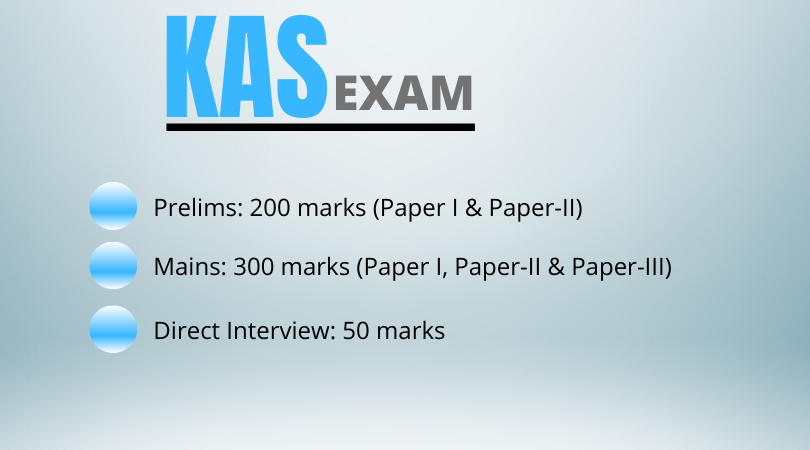 KAS exam is conducted by the KPSC in three stages:
Prelims: 200 marks (Paper I & Paper-II)

Mains: 300 marks (Paper I, Paper-II & Paper-III)

Direct Interview: 50 marks
The exam format is objective type for prelims. The marks of the main exam and interview will be considered for the ranking. On successfully completing all three stages, the candidate is appointed. Those candidates who are appointed as KAS junior time scale trainee will be given training for 18 months. Once the training is completed, the candidate is required to complete two years of probation period.
The prelims are expected to be conducted in February 2020. If you haven't applied for the exam, make sure you do it fast. The last date for applying for the exam is on December 4th, 2019. Registration must be done through the official website of Kerala PSC.
Benefits of KAS
As this is the highest valued exam in the state of Kerala, the perks of passing this exam and getting appointed into one of the various government departments is a prestige and a lifetime career opportunity. The biggest advantage of getting appointed as a KAS officer is that if you have a work experience of 7-8 years, then you can get recommended to IAS posts in the future.
The Coaching
If you are looking for a government job in your own state, then this is an opportunity you don't want to miss. To get the job on the first attempt, it is recommended to join the best coaching institute in Thrissur  because the KAS exam is not like the ordinary PSC exam. It requires constant preparation and extensive knowledge of all those concepts you have learned in your high school. 
By referring to the syllabus, you can know about the subjects to study and prepare accordingly. However, this is a highly competitive exam, therefore, getting professional coaching is a wise choice. This can only be achieved at a place known for its excellent coaching abilities and there's one place in Thrissur which is Ignite. This is where you should get your coaching done.
Want to know something interesting?
Ignite is going to start the first batch coaching for KAS on 2nd December 2019. Since Ignite is one of the best coaching institutes in Thrissur, you could be among the first one to get your seat. All you need to do is enrol here without wasting time.
What Makes Ignite Great
?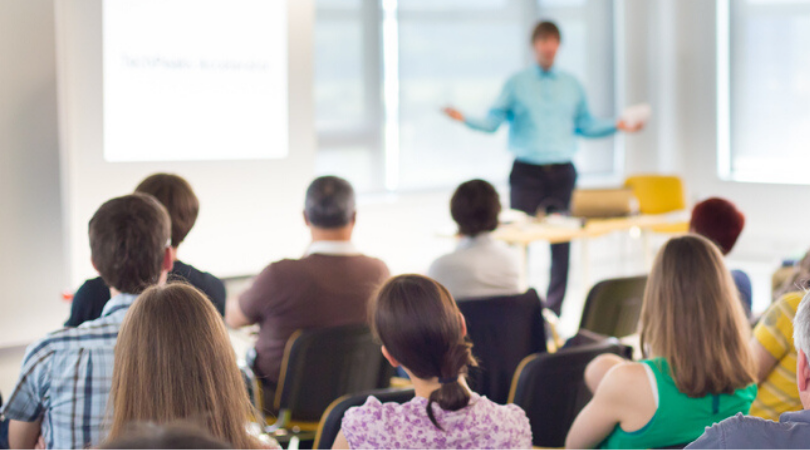 We are one of the leading coaching centres in Thrissur that provides the best coaching for students for various entrance exams such as NATA coaching, JEE, Diploma, LET, PSC coaching and more. It is our hard work, dedication and the trust we have gained over the years that have made the best among the competitors.
At  Ignite, we implement a coaching style where the core concepts are taught in such a way that the students grasp the concepts properly and become fully thorough in the topic. Our faculties are always ready to provide individual assistance for those who need it.
We understand that in order for our students to expand their skills and become skilled in their career, extracurricular activities are needed along with the coaching. This is why we conduct our yearly workshop program SRISTI, which is a platform that showcases the architectural talents of our students. Some of the factors that make us great from others:
Well experienced faculties 

Assured results

The Institution is run by IIT Alumni

Conduct online mock tests & offline mock tests
Advantages You Get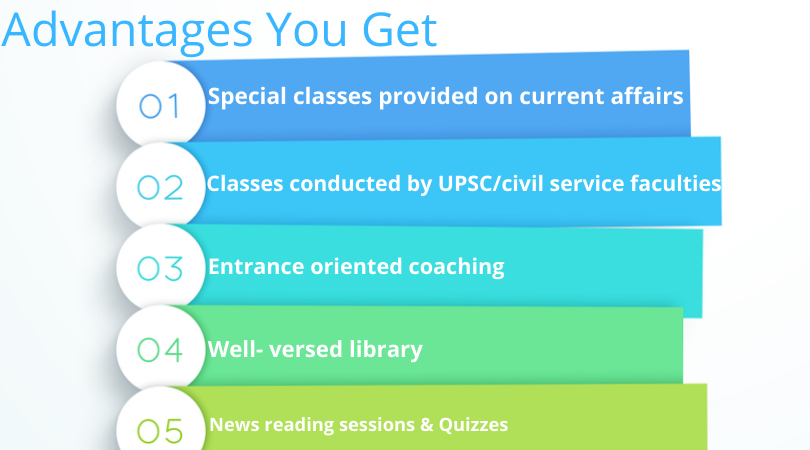 As KAS exam is the first exam that is to be conducted in Kerala, we know the importance of the exam and we provide coaching classes that make the students handle the exam with ease. Unlike other exams, there are certain advantages that make KAS coaching at Ignite superior from others:
Special classes provided on current affairs
Classes conducted by UPSC/civil service faculties
Entrance oriented coaching
Well- versed library
News reading sessions & Quizzes
So, what are you waiting for?
We are all ready here to begin our coaching for the KAS exam. The question is, are you?
If you are ready, then without hesitating enrol at Ignite, get the coaching and pass the exam with ease. For more details, you can visit our office or drop us a call so that we will get back to you.

---