Study NATA & JEE Online at home using Ignite's Guru App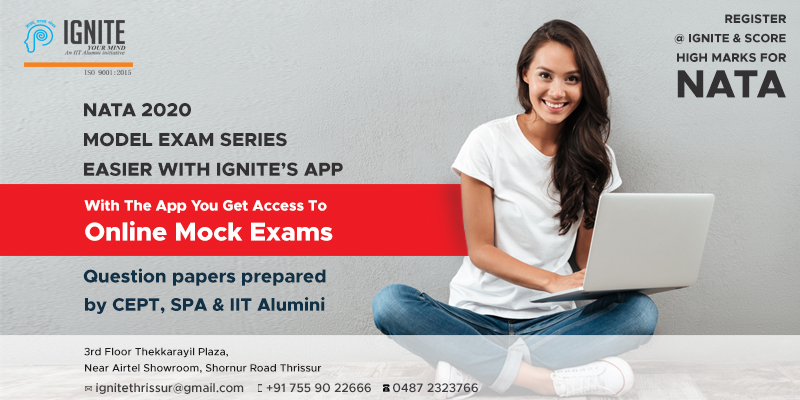 As our present world situation is going disturbing day by day, we the public should always follow our authorities' instructions strictly to bring back our Nation again better than before. Right now it's not safe to travel and move out of the home due to health issues, it's always better to be in your home and stay safe. As there are a lot of young aspiring students preparing their life to crack NATA & JEE exams, as a responsible Training institution, we cannot stay leave our students behind, recognizing every student's needs and today's spreading health problems an online NATA coaching is powered by Ignite which advances every student centering on their dreams even in less time, effort thus being smarter and faster. Ignite has created this online NATA coaching from a fire of deep learning of candidates' requirements, researching the topics and making it suitable and comfortable for students to bring out the best in them. Moreover, the world has already digitalized, its time of internet that makes things simple, faster and smarter.
Explaining more about the Online coaching, you can get the app in the android store searching the keyword "IGNITE'S GURU" or if you are an android user please go through this link and also this online coaching is available in web base too. Of course, you will be in a doubt regarding how effective this Ignite Guru online coaching app will enhance our studies. We are 100% confident in our app because that's how we prepared it. You can go through a demo class within our app, hence confirming that this app can make progress in your studies. This Demo class will go through a small portion of your syllabus made by experts in the Ignite academy. After this class, you can decide whether to join with us or not. Our experience has proved that after the demo class, an inspiring candidate can never step back without joining us because we had worked our best to bring out the best for you. Once you have joined our online classes following services will be provided to the students
we will be providing you study materials that are already made quite effective for students learning
Detailed recorded classes from the experts so that you can clear your doubts up to an extent, even after you have stuck with doubts we have further facilities to clear your doubts.
We will be providing previous year's question papers to the students that they can go through the pattern of questions and get knowledge of examination.
After successful completion of classes, several model examination will be conducted for the students to check their performance so that students needed special care can be sorted and can do the required.
Aptitude video sections are also provided to the students
Full-length Model NATA tests will be provided to the students to have pre-training before the exams and this may reduce the tension and fear of examination for some type of students.
E-Study materials will be provided to the students
Discussions, One to One mentor, call assistance will be available for students so that every student's doubts can be discussed and individual students will get special care throughout our training. Our experts are always willing to help you in doubts regarding this online coaching.
Assignments and online submissions need to be submitted towards the trainers such that they can monitor you better.
Even after these facilities, for students' 100% successful rate 7-10 days classroom classes will be provided to the students for better communication and clearing their every doubts, thus preparing them ready for the NATA & JEE Exams.
Our services don't stop here, Our experts' team will be working and researching continuously on "what updations can be brought out further for our students for better performance in the exams?" because our students should be the best, you are here trusting us and we should prove you were in the right place. For more information about our team and online coaching please go through our website.
---