Repeaters batch for NATA/JEE, UCEED, NID, NIFT aspiring candidates.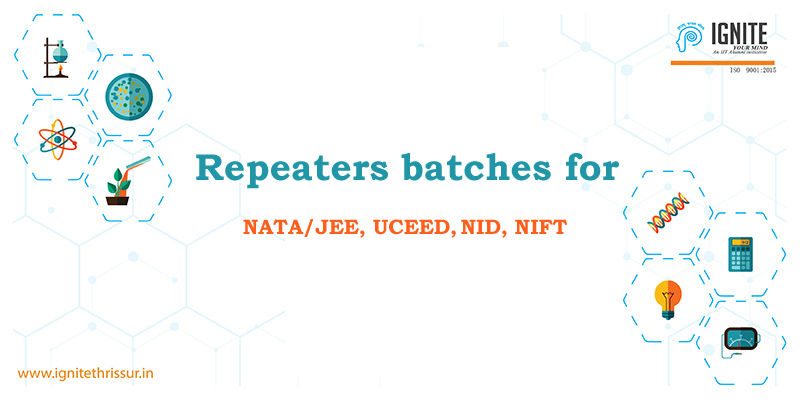 Ignite Academy, one of the best coaching academy in Kerala which is an initiative of IIT alumni that is been running successfully by IITians and CEPT. The hard work of Ignite academy hiked this academy as one of the top academies for aspiring teens and youngsters to bless them with a brighter future in their academics. Ignite Motto itself is to fill the youngsters with a quality rich education. As a result, a lot of achievements in different- different exams have achieved by Ignite candidates. Spending a little time through the Ignite website can give you proven intentions or achievements of this academy. Ignite Academy is filled with experienced trainers from the field of engineering, architecture, information technology, and other engineering areas.
It's good to hear that Ignite academy is starting their repeaters batch training for NATA/JEE, UCEED, NID, and NIFT from July 2020. A lot of aspiring candidates were unable to crack their dreams due to several reasons. Ignite is ready to provide these students with the best quality training. For that, trainers under the Ignite academy has already started their work to bring the best comfort training in the best pattern and thus provides you the quality education in the correct manner. As I mentioned above coaching for NATA/JEE, UCEED, NID, and NIFT are available at Ignite Academy, lets us give you a small description about these exams:
The National Aptitude Test in Architecture (NATA) is the exam conducted by the National Institute of Advanced Studies in Architecture which comes under the Council of Architecture for sorting qualified students for higher studies in BArch. There are a lot of aspiring candidates dreaming of a bright future in this field. Ignite academy already has proven results in NATA/ JEE exams. It confirms that every student under the Ignite academy will get quality education and skills to crack the exams.
UCEED exams are conducted by the Central or State Board recognized by the Association of Indian Universities. Cracking this exam qualifies you for the bachelors of design from even IITs and also other private collages providing design-related programs. Likewise, the National Institute of Design (NID) conducts a NID entrance exam to find the qualified candidates capable of joining design courses offered NID campuses. Talking about NIFT (National Institute of Fashion Technology), it's the top public institution teaching fashion designing in India and it includes around 16 institutions. A national-level exam is conducted for qualifying seats in those institutions. As mentioned in NATA, These courses are the future, a great future is been open through this field. You must start your preparation well to accomplish your dreams by cracking successfully the initial stage entrance to your future job. Ignite includes the best pattern of coaching to solve the coming exams. For each and every exam, Ignite has its own professional trainers to train you and make you prepared for the exams in every manner. We have planned to mold our student's career from July 2020, if you are willing to have a bright future contact Ignite academy, I am sure that it's going to be one of your best decision. Please go through the Ignite website for more details and contact information.
---