Our KEAM Journey With IGNITE – From hopelessness to Top Rank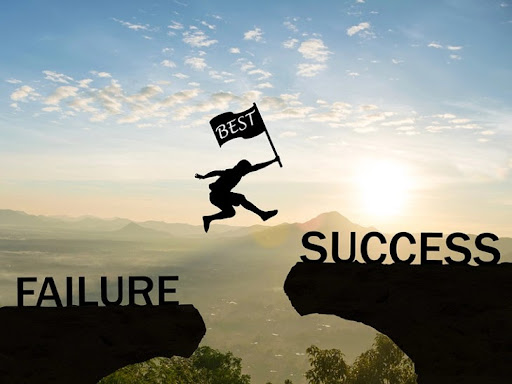 It is a proud moment for us when several IGNITE students have secured the top rank in KEAM entrance results.
For us, success is a result of our students' dedication and hard work coupled with our team expertise, and innovative teaching style. So if you plan to have a bright career in architecture at IGNITE, we could open the doors for your successful future.
If you are looking for a good NATA training institute and are still confused about which one to choose, let us share some of our achievements with you.
A total of our 35 students secured rank under 250 in the KEAM entrance 2021.
More than 30 of students have secured a top percentile of 99%.

Here is what our students have to tell
Adinath Chandra: RANK 3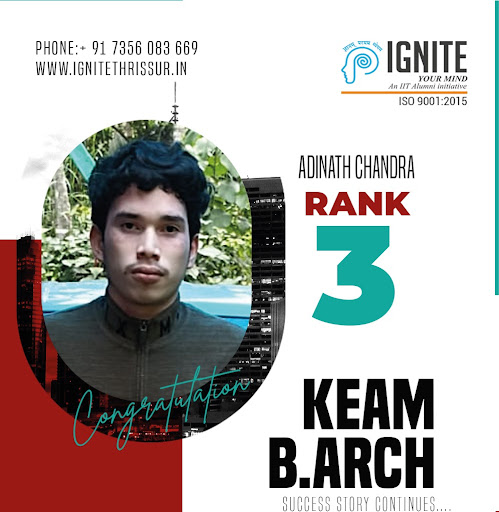 "Before joining IGNITE, I used to do mock tests myself. Unfortunately, the results were highly demotivating as I was not even securing a qualifying rank.

However, after attending IGNITE classes, I realised that the problem was not due to a lack of knowledge but because I lacked the correct technique.

With the proper preparation, guidance and coaching from IGNITE faculty, I could successfully answer even the most challenging questions within a limited time."
Revathy Krishna: KEAM RANK-5
"Thank you so much, IGNITE, for being my biggest support towards success.
The Mock tests of IGNITE have helped me tremendously as many similar questions were asked in the KEAM exam."
Hanna K: RANK 19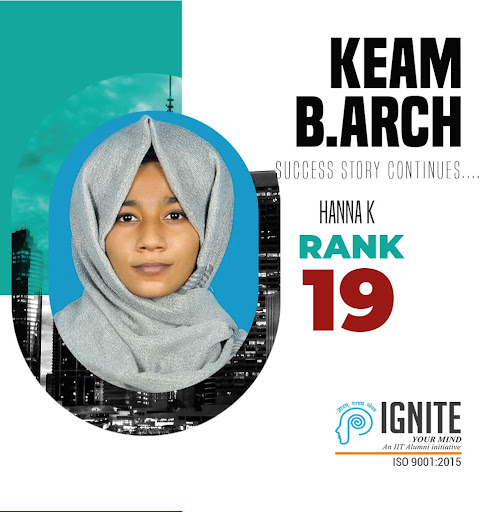 "I would like to give my complete gratitude to the IGNITE family. Ever since I joined this institution, the teachers have been extremely amicable and supportive. The thing I like most here is that more emphasis is given to strengthening fundamental concepts, which makes it easier to solve complex problems as we move forward."
Lakshmi Ashok : KEAM RANK- 47
"Joining IGNITE was absolutely a limitless experience for me. Ever since my school days, I have longed to be an architect. I joined IGNITE while I was in my +1 as Abhilash Sir told me that it is always better to start the preparation early.
All the faculty members are incredibly knowledgeable and friendly, ready to clarify doubts at any point in time. Last year we had online classes. Initially, I was sceptical about the concept but later realised that it was even better than live classes. The institution provided several study options, including the study materials, IGNITE guru(Study app) etc.
Thank you all of you, for supporting me to achieve my dream."
Parvathi: RANK 25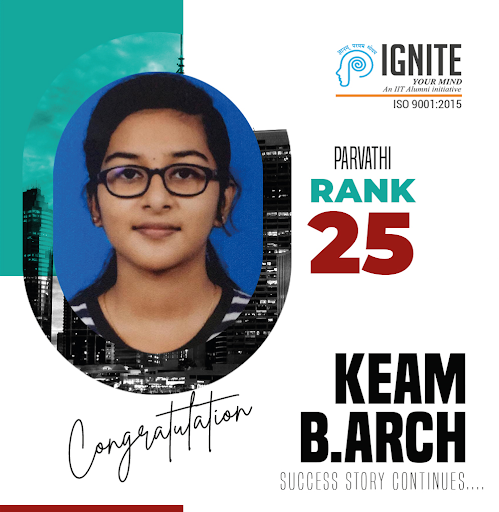 "The teachers are highly cooperative and experienced. They were always keen to clear all my doubts and encourage me throughout the session. I wish to take this fantastic opportunity to thank IGNITE staff members, and my batch mates for their endless support."
ABHIRAJ CK-181
"My advice to JEE aspirants is to never let go of their high spirits. When I attempted JEE for the first time, I couldn't secure the expected rank. But, unlike the toppers, I was just an average student who could barely secure a seat even with hard work and diligent effort.
I was disheartened and thought of ending my dream. However, Abhilash sir gave me a sense of confidence and motivated me to join the repeaters batch.
While the entire country was in lockdown, the IGNITE faculty members meticulously taught us the different concepts and ways to handle even the most challenging questions through carefully crafted online sessions.
I attended the JEE entrance for the second time with a newly found motivation and secured a good rank."
Karthik Dev: JEE AIR 296
"I was someone who was just an average student and secured low marks in +2. I loved architecture as a career option but was not too confident to be one, mainly due to my low +2 scores.
My entire life hit a turning point the moment I stepped into IGNITE. The faculty members are fantastic. They have designed the course curriculum so that even an average student can secure excellent marks in the entrance exam.
When I saw my entrance result, I was stunned. I have never imagined in my wildest dream that I could secure such a good rank. Therefore, I use this opportunity to thank all my teachers for holding my hands and supporting me in my dream.
If you are someone who lost hope due to your low +2 mark, mark my words, never put an end to your dreams. With hard work and the proper preparation, you can cross any stumbling block and achieve your goal."
How can IGNITE help you?
Since real-time entrance coaching came to a standstill due to the extensive lockdown we have faced, our faculty members at IGNITE developed a unique online coaching solution to equip the students for entrance examinations.
With years of experience up the sleeves, we have developed WEE Classes-a unique blend of live and online classes.
As the entire country speculates for an upcoming third wave, staying safe is the utmost priority for everyone. Our CALM model makes it possible to ensure that each student gets the best possible training.
Our specialities include:
Continuous assessment
Exclusive live classes
Personalised coaching
Comprehensive study material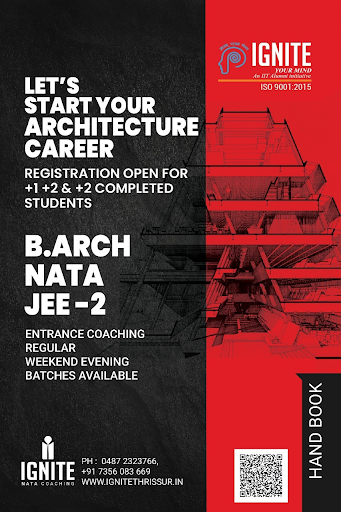 We are starting our repeaters batch this November. Don't miss this wonderful opportunity and enrol now to start your journey towards a dream profession !!!!
---