NATA 2020: Exam Date New Pattern Revised Syllabus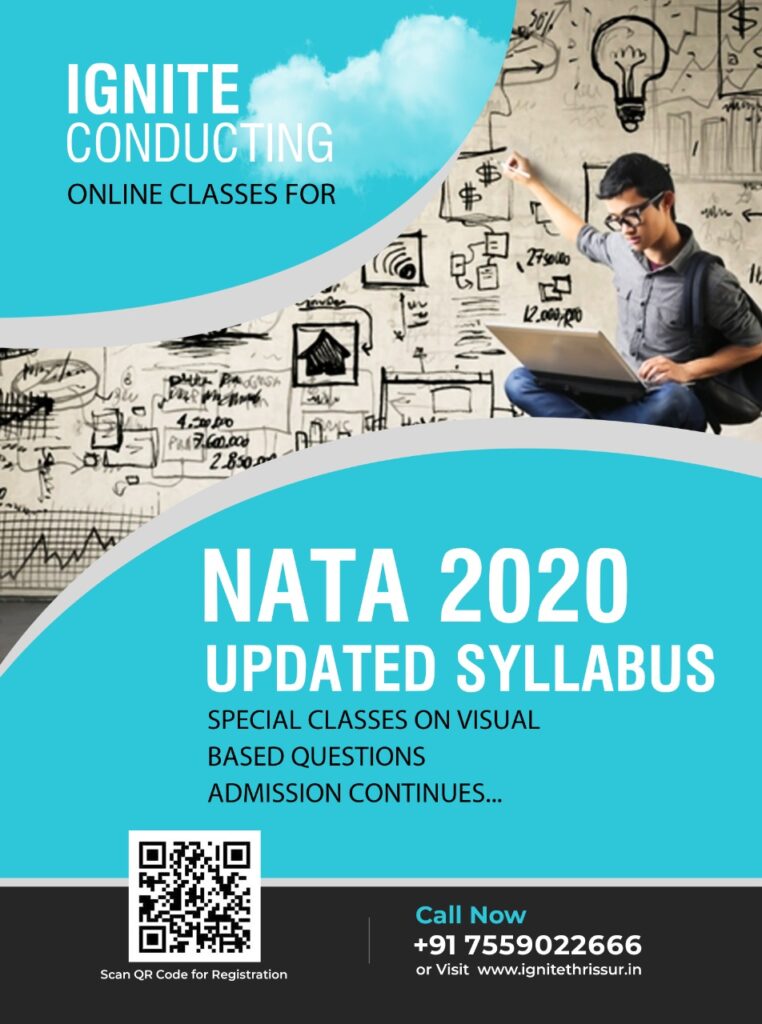 In view of the prevalent situation in the country COA has decided to postpone the ensuing First Test of NATA 2020 examination scheduled for August 01, 2020. Part-A Test (Drawing Test) Drawing Test has also been revised .

Team IGNITE is working on changes in revised syllabus According to Architect Lakshmi opinion


"In this pandemic situation, we all go through unusual circumstances, and the NATA examination pattern is also changed by considering the safety measures. As per the latest notice, Part A Drawing Test of NATA 2020 examination and Part B General Aptitude and PCM both will be conducted in online mode. The drawing test, otherwise held in pen-paper mode, will now be held as a preferential choice type test which is to be answered on a computer or a laptop according to NATA 2020 new pattern .
The questions will be in a way to assess how you perceived the basic concepts rather than the drawing skills you have. Multiple-choice exams also usually expect students to have a greater familiarity with details such as specific concepts, theory, or vocabulary acording to NATA 2020 new syllabus.

During the examination, you have to read the question completely minimum twice and visualize the scene in your mind in such a way how you plan before drawing it in a paper. Try to go through all details like, which drawing concept will help you to answer this question, how will you arrange it in a paper, what all color will you prefer if needed, etc. Only after that goes through all the options provided. Often it will suggest which is right. If you are surprised by the answers given, you want to recheck that you read the question correctly.
Let me introduce a question you are familiar with: Using the desired number the basic geometric shapes found in a bicycle make a visually appealing composition using an analogous colour scheme. For this question, you may have two or more sub-question. They provide a different colour combination. from this, you have to choose the right combination in the Analogous colour scheme. The second question may they provide options with different shapes. From that, you have to choose the correct option that has the basic shapes you found in a bicycle. Like that you may have to answer different sub-question.This is a simple example, the question and options won't be as simple as this, a little bit confusing.
I hope this will be a better method to analyze you as an Architect rather than by considering drawing ability, of course, it will be helpful for your career. But throughout your life as a student architect or architect, you required these analytical and reasoning skills more. So learn the basic theory and concept according to the syllabus thoroughly. Learn to visualize the solution for the problem in your mind. Improve your creativity and imagination. We will update the instructions and come with exercise according to the new syllabus. All the best, Lakshmi.
also hear what our visiting faculty cept Alumni saying about changes in syllabus of NATA 2020 : Exam Date New Pattern

https://www.youtube.com/watch?v=mY4ZFlrftdA

Our services don't stop here, Our experts' team will be working and researching continuously on "what updations can be brought out further for our students for better performance in the exams?" because our students should be the best, you are here trusting us and we should prove you were in the right place. For more information about our team and online coaching please go through our website.


---