IGNITING THE PATH TO SUCCESS ……. ONE STUDENT AT A TIME.
In today's age where numbers rule the game and the bottom line is all that matters, we at ignite are trying to redesign the educational field in our image.
On 6th of January 2020, 50 students from IGNITE appeared for the JEE PAPER 2 examination out of which 24+ students have scored 97 percentile and above and 8 students have scored 99 percentile and above, the highest percentile being 99.9 secured by Hasna of the repeater batch.
Apart from having the best average success rate and the top score in the state IGNITE has once again proved that success, true success comes when students and the institution work as a family.
Here are some of the testimonials of our students
1)The faculties are very friendly and helpful and if we are ready to learn sky is the limit at IGNITE.
—–Hasna (99.9 percentile)
2)Individual attention is a huge plus point here at Ignite and it has helped me a lot.
—–Sajith (99.28 percentile)
3)IGNITE has helped me dream without any restrains, they have helped instill confidence in myself. I owe my success to Ignite.                                                                                                                                                                                                        ——Khadeeja (99.24 percentile)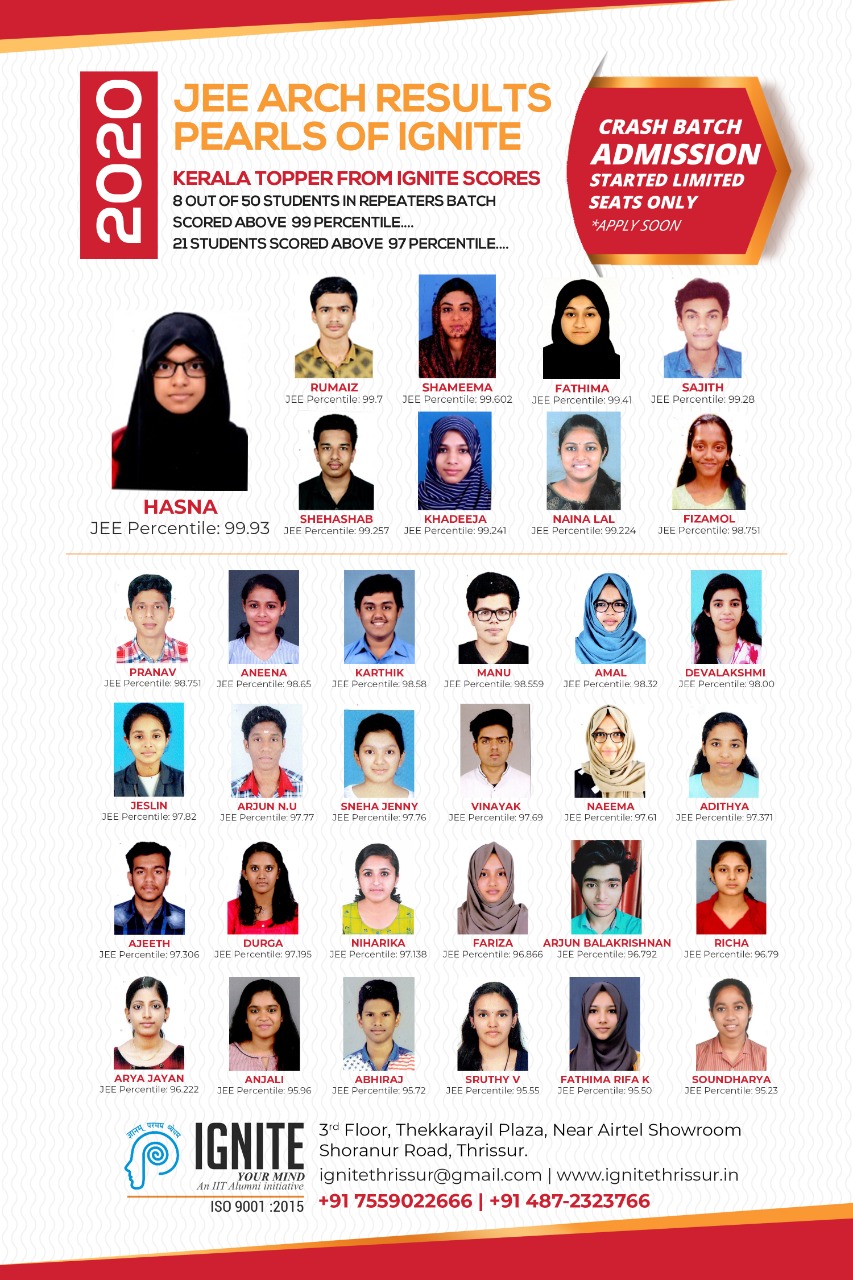 People often ask, what is it that sets IGNITE apart from their competition. Now in a country obsessed with entrance coaching and where education is one of the largest and most profitable businesses in the country, numbers and size are all that matters. Everyone is obsessed with increasing the number of students in a class, almost to the point of stuffing the class to its brim….IGNITE is taking the road not taken.
Founded by a group of educators with over 5 decades of teaching experience between them, they set out with the objective of making a difference in the field of education. In a field where students are treated like cattle, they wanted every student to feel special. They wanted students to be more than just a name or a roll number, they wanted to have a personal connection with every single one of them and above all they wanted the students to feel like they actually belong and felt important. That meant giving individual attention to the students at their institution which indirectly meant limiting the number of seats available. So, with a limited number of seats up for grabs (50-60) for an entire academic year, they have implemented their dream of providing quality education to their students meanwhile keeping the fees and cost close to one-third of their nearest competition.
At IGNITE there is a strong belief that no matter where you come from or no matter how average your talent is, everybody has a fighting chance in this world and that the world does not just belong to just the brilliant students, and that sometimes you need to polish the rough diamonds too. In a time when pressure is the name of the game, IGNITE believes that true potential is reached when students feel free to explore their limits, so here more emphasis is given to let the students express themselves meanwhile giving them the right tools and guidance to do so.
Some of the factors contributing to our unmatched success are as follows
Experienced faculties with great interpersonal skills.
Course plan prepared under the guidance of prominent architects and CEPT and IIT alumni.
Study materials being updated every year.
Model exam papers evaluated by senior architects as per exam norms.
Individual care and attention for the students.
And the ever-expanding library for the students.
Regular mentoring provided for its students by the director Prof Abhilash himself (IIT alumni).
IIA NATIONAL AWARD-winning architect Madhushitha Aravind is the academic coordinator.
The fear of exam can only be eliminated by attending more exams so at IGNITE exams are conducted twice a week and the consequent reports are sent to their parents/local guardians which in turn helps in giving the students and their parents an idea as to where they stand academically. In addition to this parent-teacher meetings are called in regularly to review the performances of the students with their parents giving them no room for slackness.
Architecture is a course best learned outside the classroom. At IGNITE this idea is taken seriously as regular outdoor sessions are provided along with interesting workshop sessions to motivate the students to give wings to their own imagination and to give a taste as to what is expected of them from this profession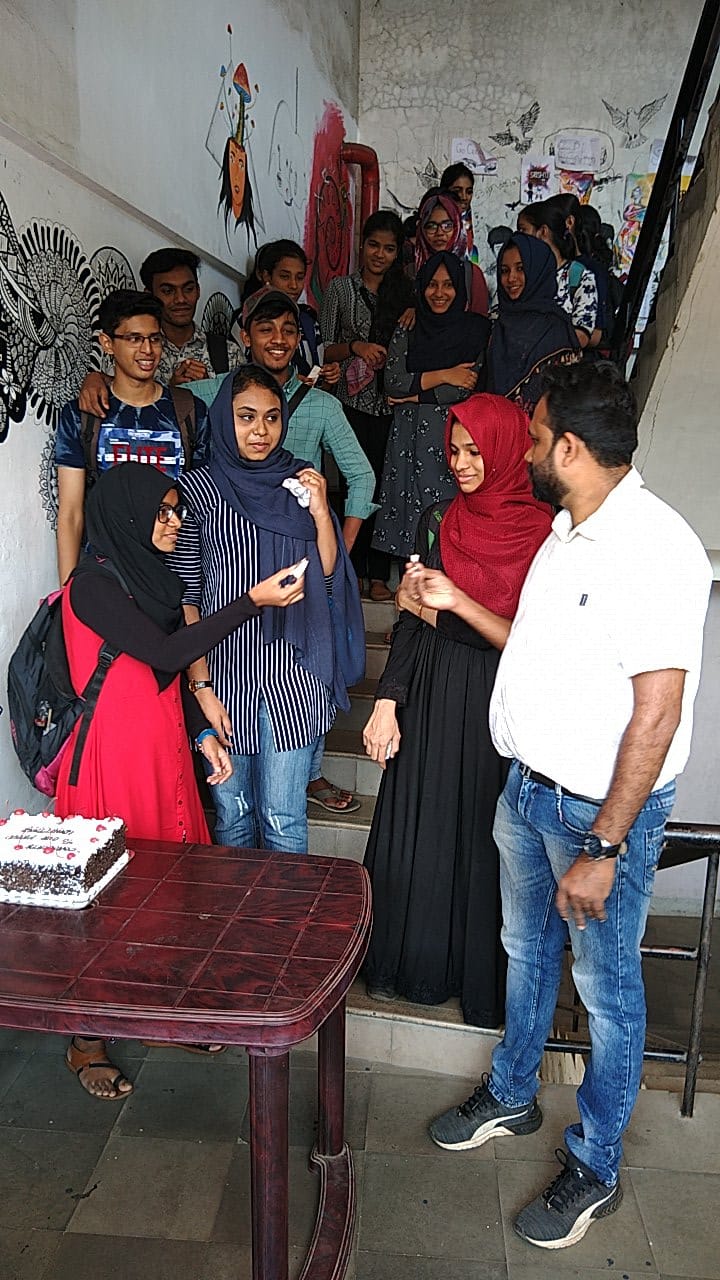 As APJ Abdul Kalam once famously said -"Excellence is a continuous process and not an accident."
Likewise, the results achieved by the students of IGNITE is not an accident but the fruit of the hours of continuous effort put in by the students and the teachers alike. After the initial celebrations and jubilations, its back to the business at IGNITE as students work harder than ever to best their existing scores in the upcoming JEE paper 2  and NATA exams being held in April.
---