ALL ABOUT INDUSTRIAL EXTENSION OFFICER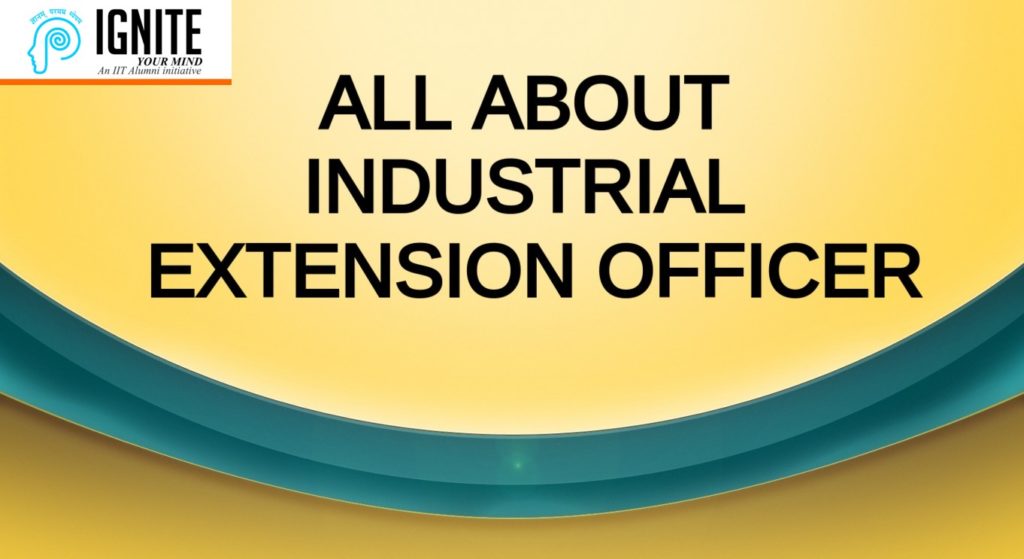 To promote the industries mainly MSMEs is the main role of an Industries Extension Officer. MSMEs stands for Micro, Small, and Medium Enterprises. New schemes are announced by the government. In this section, the names of selected candidates will remain in the force for a minimum period of one year. This list remains for one year on the condition that the said list will continue to be in force till the publication of a new list. This is done for the expiry of the minimum period of one year or till the expiry of three years whichever is earlier.
An IEO, Industrial Extension Officer will be provided with a target regarding the number of projects. Only a few days will be given to spend in the office the rest all will be field work getting in touch with the MSME units. After undergoing a training for a few months you will be posted to some other place which can help you to attain your tasks.
Listen to a few frequently asked questions for Industrial Extension Officer
What is the method of appointment?
Direct recruitment is the method of appointment for the post of industrial extension officer.
Is there any age specifications for candidates?
This category is specified only for candidates between the age limit of 18 and 35. That is he/ she born between 01.01.1983 and 01.01.2000 are only eligible to apply for this post. SC/ST and other backward communities candidates are for usual age relaxation.
Qualification needed to apply for industrial extension officer
A degree in any branch of Engineering is the only criterion for applying to this post.
Note some important points:
Training: After completing the selection process, the selected candidates shall undergo the prescribed training for four and a half months in-service training in different centers specified from time to time. They are supposed to join the post from the date of joining the training centers or joining duty in the post whichever is earlier. There will a bond to be achieved by the candidate in the prescribed form.

Probation Period: From the date on which he/she joins duty will be treated as the probation period for a total period of two years on duty within a continuous period of three years.

Test: If he/she does not have passed the Account Test, every person appointed to this post must pass the examination within the prescribed period of probation.
What is the mode of submitting the application?
Candidates are supposed to submit the application only through online. All detailed information concerning the submission of applications is available on the website of the Kerala Public Service Commission. No application fee is required to register through the website www.keralapsc.org. Just a part-time registration for Rs.100 is enough for applying to any government exam. After applying the barcode number provided in the application form will be noticed for sending all further enquiries. The print out of the application form and the barcode number should be placed in safe custody for future reference. Age, qualification and community proof documents should be submitted when they called for. If candidates fail to submit the application as per the website then their application will be promptly rejected.
Which are the promotion prospects for Industrial Extension Officer?
Kerala is a massive land comprising of fourteen districts with a total of 57 Taluk industries centers incorporating 193 industries extension officers. Headed by the Assistant District Industries Officer newly recruited IEO officers are posted at Taluk industries Center. Other available promotions for IEOs are Assistant District Industries Officer, Assistant Director, Deputy Director, Joint Director/General Manager, Additional Director, Director(Handloom), Director(Coir) etc.
Is IEO a Gazetted Post?
IEO is not considered as Gazetted post at present in Kerala Government Service. But its the fact that the Senior Superintendent in the same department of Industries & Commerce with the same scale of pay of an IEO is treated as a gazetted officer. Even though it not considered as the Gazetted post this post receives the same scale of salary to that of a gazetted officer.
What is the salary expected for an Industrial Extension Officer?
Rupees 35700- 75600 is the expected salary given for an Industrial Extension Officer. It will increase as per the experience level of the candidate. IGNITE provides the best coaching for cracking this exam in psc.
A brief about IGNITE…
IGNITE is a highly reputed firm since years providing coaching for different kind of aspirants. Out of all other institutions for coaching psc in Thrissur, Ignite stands ahead with its excellence. Bestowing quality information to all teens and youngsters for a bright future is our primary objective. This multidisciplinary institution is been managed by IITians and CEPT. We cater every educational need of students from schools to postgraduate programs.
NATA coaching, B.Tech tuition, Higher Secondary tuition, SSC Coaching, Diploma Tuition, LET Coaching, M.Tech Tuition, B.Sc/B.Com tuition are the other courses offered at Ignite.
If you are a candidate dreaming for a stable job with a high salary then this is the right choice for you. Ignite is one of the best psc coaching centre in Thrissur providing students with the best training and facilities. Ignite uploads revised syllabus every year with the latest psc scenarios to offer effective teaching methodologies to reap excellent results. Around 25,000 success stories Ignite is still counting its path ahead. We never compromise with 100% success statistics. We stimulate students to reach the peak of success in competitive exams like PSC, SSC etc with the extraordinary learning experience.
What are the features that make Ignite special from others?
Regular PSC Model Exams
Ignite will provide model exams regularly. Exams are always the enemies of candidates but we make it as their friends, only by wiping away examination fears one can achieve success in examinations. It is very common for students that they forget all the topics of exams they had prepared for the exam because of their examination fear. So we guarantee to eliminate all the examination fear before attending the real exam. Practising more exams will help you a lot with the main exams.
     2. Special Training For Each Level Exams
Exams will be conducted for each level. After completing each section we will provide exams. Training will be provided on the basis of exam levels. Only after clearing each minute sections we proceed to the next level. We are offering very well coordinated classes.
     3.Bulk Question Papers To Refer
Every candidate will be provided with a bulk number of question papers. This will definitely help the students to crack the exam more easily. Answering various sorts of question papers will help you with the exams.
     4. Professional faculties to train you
We are enriched with a highly skilled professional to train you for competitive exams. Our faculties are ready to help you with any kind of exam difficulties.
     5. Invaluable Exam Tips
We also show interests in providing tips to our students for cracking competitive exams. Years of our experience made us an expert in this field.
     6. Individual/Batch coaching
As per the requirement of aspirants we provide individual coaching or batch coaching. For students who are needs, extra care are prefered more for individual coaching.
     7. Continuous Assistance
We offer continuous assistance to our students in all sense. In terms of materials, classes, etc complete assistance is given from our side to each and every aspirant.
     8. Individual Attention
No student is gone without the care of our faculties. We ensure individual care for every student at any cost.
     9. Availability Of Mock Test
Ignite provides an online mock test for candidates. This will be better than reading and answering pattern. Answering questions directly from Google will be quite interesting than the old pattern. Now the mock test is available for all kind of competitive exams.
     10. Providing Study Materials
Ignite provides all relevant study materials our candidates.
     11. Continuous monitoring
We make continuous monitoring with all our students. This makes us to know about the status of each student.
<>Best Coaching Centre For Industries Extension Officer
---