+1 +2 Online Tuition At IGNITE !!!
The year 2020 will go down memory lanes as the year the world came to a standstill, quite literally. This pandemic has changed the world in ways unprecedented. Be it education or entertainment every field has had to face the brunt of this Pandemic. In India, the pandemic has brought about a paradigm shift in the way Educational sector functions. From being a large classroom centric methodology the Indian educational scene in the past few months has seen almost everyone shift to an online platform. It is also becoming evident that this indeed is the future. We at IGNITE were quick to recognize this trend, which led us to shift our +1 and +2 tuition classes online in the early days itself.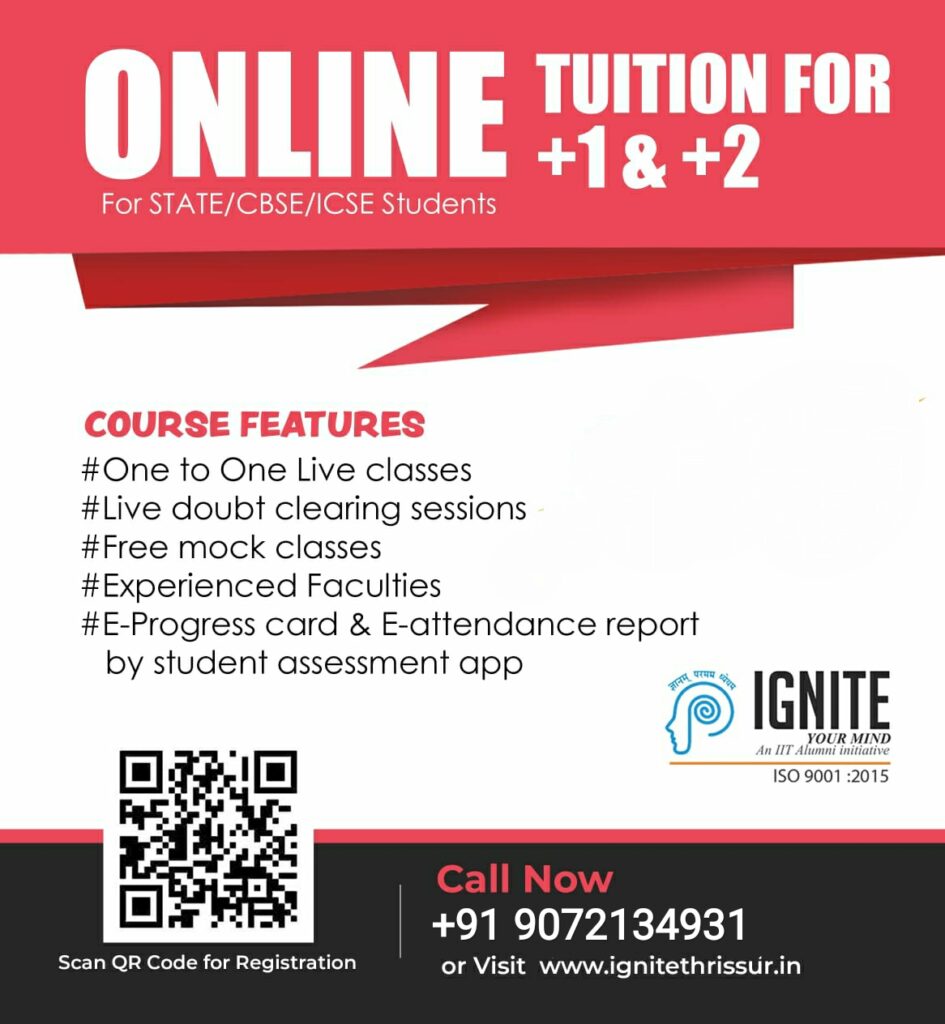 The last two years of our schooling namely +1 and +2 are in fact the most decisive years of our life because it is here that we decide the career that we will be choosing for ourselves for the rest of our lives. It also provides a foundation for our college studies which will further decide the course of our future. Here at IGNITE, we are determined to provide you with the strongest of foundations so that any future endeavors will be met with amazing success. Moreover, the new educational reforms have only re-emphasized the importance of +1 and +2 classes.
IGNITE has always been an institution with a core belief that every student is unique in their own way and more importantly this work and its success belongs to each one of them. Hence we have always strived to give our students the best chance to succeed in their life. At IGNITE students are not just a name or a roll number, they are full-fledged people with their own strengths and weaknesses to which we pay individual attention so that they feel like they matter. Student-centered education is at the core of our educational approach.
With the Indian educational system at the cusp of a huge change owing to the upcoming educational reforms at the center of which is a more concentrated and streamlined career-oriented approach to education right from a young age, this gives the students of IGNITE an added advantage because we have always tried to inculcate this very approach in our teaching methodologies. Going in tandem with the views of Noble laureate Abhijit Banerjee we at IGNITE strongly believe that true progress of the nation happens only when good quality student-centered education at an affordable price is accessible in every nook and corner of a nation thereby elevating the quality of the public and introduce the poor to a world of opportunities.
Now with the online education rolling the roost, everyone is jumping on this trend but not everyone is fulfilling its true potential. Passing off recorded classes as videos to students sitting at home cannot qualify as online teaching because it does little to truly help the students.
We at IGNITE are committed to delivering top quality live interactive sessions to our students to give them the feeling of classroom dynamics through WEE LIVE classes which means that instead of lecturing continually we follow the approach of connecting the dots. Micro concepts are embedded into the minds of the students which enables them to see the big picture and connect the dots with ease making the process of studying easy and enjoyable.
Unique Strengths of IGNITE Online +1,+2 Tuition classes
WEE LIVE classes.
Experienced teaching faculties
Faculty mentors assigned to each student.
Individual attention for students
classes coordinated by office staff.
Online attendance, mark list, and progress report available for viewing.
Dedicated online exam app available to all students
Student-centric approach
Constant online monitoring of progress and class schedule.
Live invigilation for examinations.
Now all this might sound braggadocious and self-promotion but the truth behind these statements can be verified with our past results.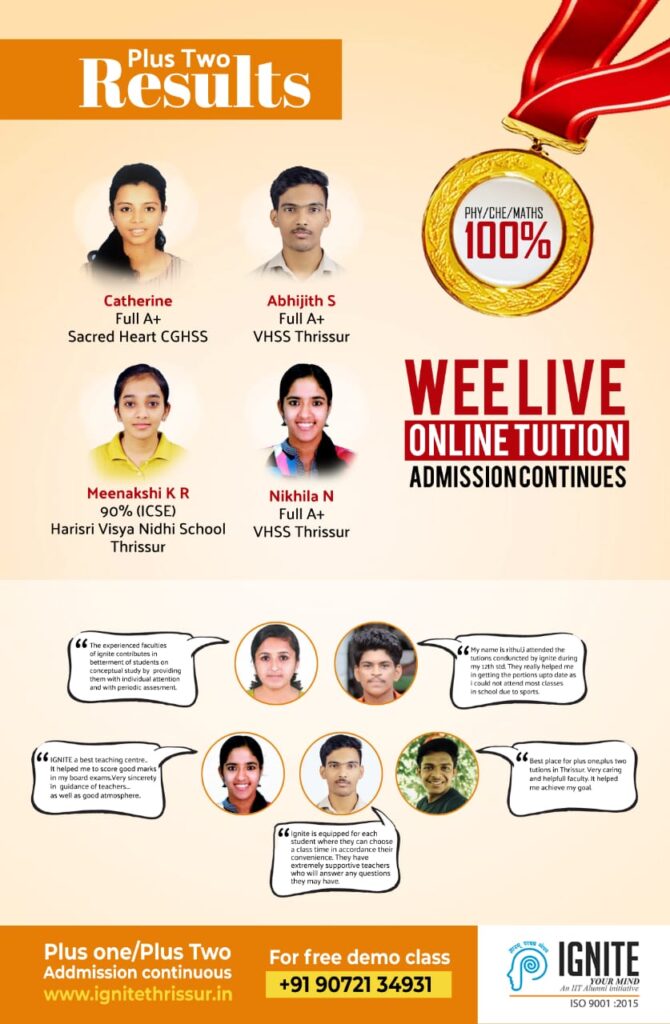 IGNITE has always championed the need for quality above quantity in the field of education and having already excelled in the fields of B-Tech tuitions, NATA coaching, and various other competitive exam coachings we have taken it upon ourselves to become pioneers in the field of +1 +2 tuitions and have already started to leave our mark.
Parents and children are encouraged to contact us to avail our free demo classes to know first hand the quality of our services.
For more details regarding this contact on the number mentioned earlier.
---