UPDATE WITH IEO EXAMINATION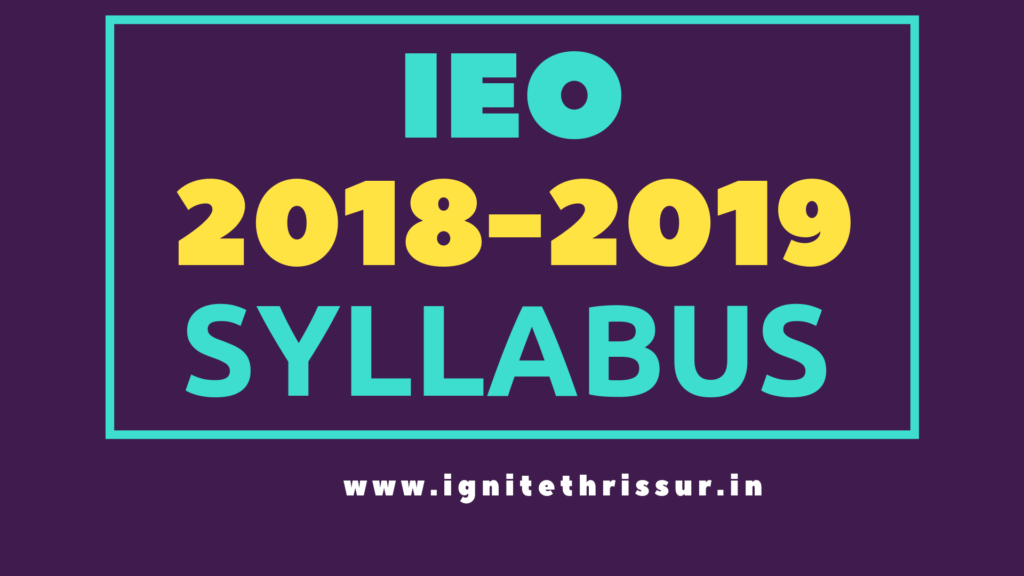 Industries Extension Officer is a job which stands equals with a gazetted job. Yet it is not considered in the list of a  gazetted job, it shares a similar salary to that of a gazetted officer. Promoting various industries is the major role of an industrial extension officer especially MSME that is Micro Small and Medium Enterprises. The qualified candidate's name will remain in the list for a minimum period of one year on a condition that the existing list will survive until the updation of a new list or till the expiry of three years whichever is earlier.
<>IGNITE
He/she will be assigned with numerous projects. After spending a few days in the office the candidate will be engaged with field work, allowing to get touch with MSME units.
You will be posted some other place which helps to attain the task more easily after undergoing training for a few months. Candidates between 18-35 age limit are only eligible to apply for this post.
The selected candidates need to undergo special training in different places time to time for four and a half months being in service after the completion of the selection process.
Newly recruited IEO officers are posted in Taluk Industries Center. Considering the experience and age, the post of an industrial extension officer will be headed to senior levels. IGNITE provides best industries extension officer coaching in Thrissur to make you excel in exams.
From  35700 to 75600 is the expected salary of an ieo officer.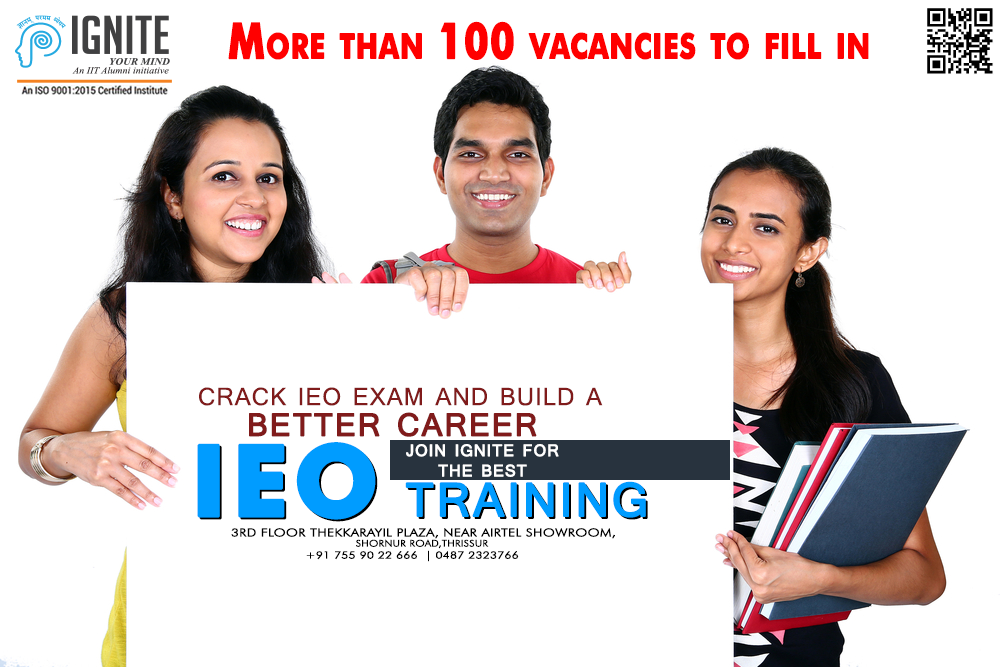 Mode Of Examination
Written Test

Personal Interview
The major test categories are the written test, personal interview, document verification. This exam is conducted in two different rounds.
One is written test that is common for all who appear to the exam. Another round is the personal interview. The candidates who possess minimum qualifying marks in the written test will be asked to attend the interview along with the required documents for verification.  
Syllabus For IEO Exam 2018-2019
The syllabus provided by Kerala psc Industries extension officer coaching in Thrissur is provided in detail below:
Trains related questions

Averages

Profit and Loss

Ratios

Proportions

Interest

LCM

HCF

Percentages

Partnership

Time and Distance

Arithmetic Series

Time and Work

Boats & Streams

Time & Work

Discount

Number System

Number series

Coding-Decoding
Nature of Universe

General Scientific laws

Inventions and discoveries

National scientific laboratories

Mechanics and properties of matter

Physical quantities

Standards and units

Force, motion and energy

Magnetism, electricity, and electronics

Heat, light and sound

Elements and Compounds

Acids, bases, and salts

Fertilizers, pesticides, insecticides

Main Concepts of life science

Classification of living organism

Nutrition and dietetics

Respiration

Blood and blood circulation

Reproductive system

Environment, ecology, health, and hygiene

Human diseases

Animals, plants and human life
Number System

Problems on Ages

LCM & HCF

Algebra

Percentage

Ratio & Proportion

Average

Partnership

Discounts

Profit and Loss

Simple Interest

Compound Interest

Time and Work

Pipe and Cisterns

Boat and Streams

Geometry

Approximation/Simplification

Mixture and Allegations

Mensuration

Sequences and Series

Probability

Permutation and Combination

Data Interpretation Etc.

Time and Distance

Problems on Trains

Areas

Problems on Numbers

Volumes

Odd Man Out

Races and Games

Numbers and Ages

Percentages

Simple Equations

Quadratic Equations

Indices and Surds

Mensuration

Permutations and Combinations

Probability

Simplification and Approximation
Alphanumeric Series

Puzzles

Seating Arrangements

Inequalities

Figural Arrangements

Direction Sense

Blood Relations

Nonverbal Series

Venn Diagrams

Syllogism

Input/output

Statement & Argument

Coding/Decoding

Logical Reasoning Etc

Verbal Reasoning

Logical Reasoning
Grammar

Vocabulary

Comprehension

Antonyms

Synonyms

Noun

Pronoun

Verb

Adverb

Adjectives

Tenses

Direct

Indirect

Spotting Errors

Passage Completion

Substitution

Sentence Improvement/correction/arrangement

Para Completion

Prepositions

Sentence Completion

Active and Passive Voice

Spelling Test

Joining Sentences

Error Correction (Underlined Part/Phrase in Bold)

Fill in the blanks

Transformation

Idioms and Phrases
Inventions in the World

Sports

Basic Computer

Indian Economy

Indian Politics

Famous Days & Dates

Indian History

Famous Books & Authors

Botany

Chemistry

Indian Parliament

Geography

Physics

Zoology

Environment

Indian Culture
Examination Pattern
This is a government oriented exam held to the recruit staffs to serve the government in various fields. This is a 3 hours based exam consisting of 200 questions from different categories.
The paper consists of two parts: Part I is mathematics and English and Part II is general knowledge and general science. Industrial extension officer coaching will enable you to crack the exam at the very first try.
Why Ignite For Industrial Extension Officer Tuition?
You must be very careful while choosing an institution for your child. Years of excellence and the quality of faculties is the most important thing.
Through complete dedication in delivering quality education IGNITE has become one of the top institutions in Kerala. For a bright future to all teens and youngsters, Ignite stands ahead to impart quality education. This coaching center is managed by IITians and CEPT.
From schools to postgraduate students Ignite caters education worldwide. Our training will make you capable to prepare for any competitive exams.
With an impressive success rate IGNITE is the best coaching centre for Kerala technical PSC and SSC in Thrissur. With years of experience, Ignite stands ahead for all sorts of PSC, SSC, nata, JEE coachings and also for technical tuitions like B.Tech, M.Tech, diploma, B.Com etc other than this they also provide tuition for higher secondary candidates who need help to excel in their exams.
IEO exam is one of the toughest exam to pass out. Hence IGNITE provides Kpsc ieo coaching classes in Kerala, Thrissur for interested candidates.
Our industries extension officer coaching in Thrissur offers highly professional classes from expert faculties. We let the candidate understand the subject through an easy learning process. Also, prepare the students for the exam with the precisely arranged mock test.
This will make them enable to excel in the psc exam at the very first time. Ignite is the best coaching center in Thrissur for Industries extension officer coaching in Thrissur ensure you a quality knowledge and better confidence to pass the examination.
Industrial Extension Officer coaching will be provided till the IEO exam starts. Classes will be held on all sundays and on all public holidays. Classes will be leaded by the experienced faculties having years of experience in this field.
Other courses offered at Ignite is Nata coaching, B.Tech tuition, higher secondary tuition, technical PSC coaching, LET coaching, diploma tuition, B.Com tuition, B.Sc tuition, M.Tech tuition.
We had conducted an award ceremony in the name Invicta in 2017, 2017 for students who had scored high marks in nata examination in corresponding years. And afterward, provide a career guidance class for candidates on various courses. Our students and faculties are the backbones of our institution.
The Special Features That Make Ignite Special From Others
Regular model exams for IEO.

For each level exam, there will be special training given for every candidate.

Bulk set of question papers will be provided for reference.

Get the assistance of professional faculties to train each section.

Precious examination tips.

Individual or batch-wise coaching is available.

Mock test

Continuous assistance

Individual attention

For any further assistance you can get in touch with us by logging into our official website www.ignitethrissur.in or reach us at 3rd Floor Thekkarayil Plaza, Near Airtel Showroom, Shornur Road, Thrissur. You can also mail us to the email id ignitethrissur@gmail.com. Feel free to call us on 0487 2323766 or +91 755 90 22 66.
---